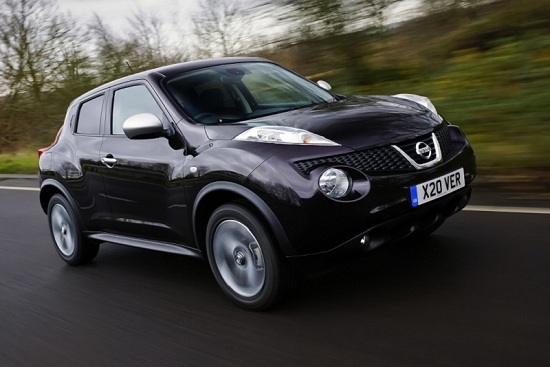 Funky looking gadget fest
A lot of words might come to mind when you set your eyes on the Juke. Bland is unlikely to be one of them. Nissan calls it a crossover, and theres definitely a touch of the SUV to its attitude. In terms of size, though, its more of a supermini on steroids.
Our test car was a range-topping Tekna, so we were pampered with leather, sat-nav and all manner of whizzy electronic toys. The nav itself is very good, with pin-sharp graphics and simple operation, and you dont need a degree to work the stereo either.  The various Acenta models also offer plenty of luxuries, with the Sport and Premium versions each adding more on top to suit individual tastes. If you cant quite stretch to a Tekna, youll find the Premium a very palatable alternative. Even the entry-level Visia has the basics, though stuff like cruise control isnt even optional. More importantly, though, safety kit is excellent across the board.

Theres a very willing 1.5 dCi diesel in the Juke range, which hauls away happily while returning a healthy 57.6 mpg. It costs a lot more to buy than the base-spec 1.6 petrol, though so much so that youre unlikely ever to get the difference back in what you save on fuel, however many miles you cover. With much more torque, you might find the diesel more relaxing to drive. But the 1.6 offers the option of a CVT automatic gearbox. Pay money, take choice. For a little more than the diesel, theres also a third engine in the range. This is a turbocharged 1.6 petrol which, with 190 bhp on offer, has definite hooligan potential. Incredibly, though, it gets respectably close to the basic 1.6 for fuel economy.

The Jukes interior is every bit as groovy as its bodywork, with lots of tones and textures to keep your senses at work. The materials arent always very nice to touch, though.  Still, the dash is clearly laid out, looking funky but not confusing. A lot of the controls are digital: this can spell disaster if its badly done, but theyre clear and easy to use.  In the back, legroom is pretty poor and you sit with a headrest right in front of your face. This and a low roof mean its barely suitable for adults, and the tiny windows mean not a lot of light gets in. Far better is the simple one-shot action with which the rear seats fold flat to create a useful cargo bay. Its not very long, but its easy to access and theres a very big hidden stowage area beneath the lift-out floor panel.

The Juke we drove had the 1.6 DIG-T engine, as the turbo is called. In fact, we got the chance to try two of them, one with four-wheel drive and the other without. In the 4x4, it has a CVT auto as standard, which blunts its power a bit. Coupled to the manual box, which is a delight to use, its a proper little screamer, revving like mad to allow savage acceleration and hold-on-tight overtaking. This sounds like great fun, and the Juke does handle very sportily. It grips the road like glue, too, especially in 4x4 form. But its suspension is very firm, which comes through the steering as constant fidgeting, and with so much power going to the front wheels its a handful to drive.

However entertaining the turbo-nutter Juke sounds, more modest versions will be more satisfying in the long term. Theyll be cheaper to buy, too, and of course to insure. In terms of fuel consumption, all Jukes are efficient cars. Even the DIG-T is pretty economical, when you consider the power it can generate. Theyre tremendously popular, too, which means you should be able to get a good price when it comes to sell-on time. Most of all, though, the Juke is a car that makes you smile. Not so much because of the way it drives, but because of its cheerfully extrovert character. If great looks and brilliant gadgets are what matters most to you, the Juke will be right up your street. What it does well, it does very well indeed.