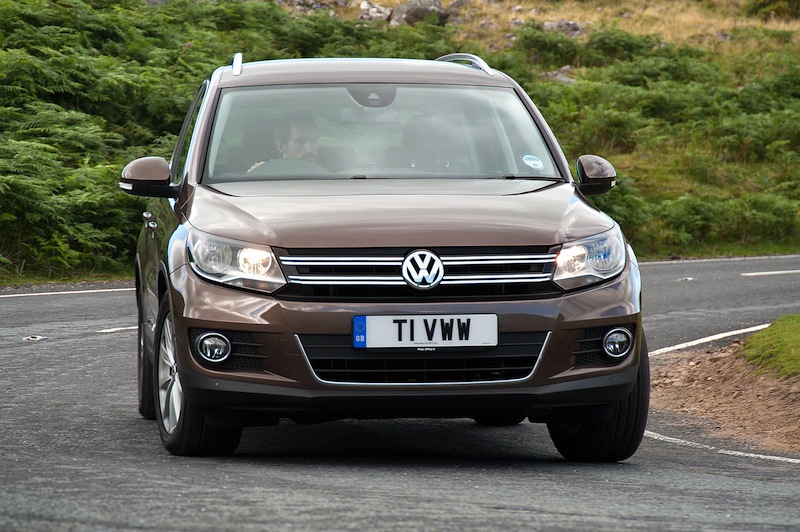 Quality in every area
The Tiguan is one of the new generation of small SUVs that blend hatchback economy with a smattering of off-road style. The phrase Golf on steroids might be a bit simplistic, but it gives you a fair idea of what the vehicle is about.
The Tiguan is notable for its low purchase price, but you can soon make mincemeat of that with the options list. Even on top models, youll still pay extra for leather seats and cruise control, the former adding well over a grand and a half to the bill. All models are well provisioned with safety gear, however, though parking sensors are an expensive option on the base-speccer.

Entry-level Tiguans have VWs remarkable 1.4 TSI engine, which uses turbocharging and supercharging together to put out 160 bhp while developing peak torque from a barely-moving 1500rpm. Its reasonably economical, too, though pride of place here goes to the 2.0 TDI, available in three different power outputs. All will do better than 45mpg, with the most frugal 110bhp version closing in on ten more than that. This engine is available in 4x2 form only; mid-powered units offer the choice, while the fastest models have 4wd as standard.

The first thing you notice about the Tiguan might be the bank of eight air vents which make the upper dash look like something from a moon base. It manages not to appear odd, though, thanks to a combination of solid build and good quality materials, and a fine selection of stowage options lends a touch of practicality. Rear legroom is excellent, thanks to a seat that slides back and forth to let you balance the needs of people and luggage, and for large loads they drop near-flat and click into place to create a very usable cargo bay.

The Tiguan is one of the best 4x4s out there if you enjoy driving. Its nimble through corners and feels keenly athletic; the lowest-powered engine needs to be worked a bit but is brisk enough nonetheless, and the other units in the range are peppier still. None of the engines produce unwarranted noise, and the clutch and gearbox are a joy. Its pleasing to steer, too, with fluent handling and no end of grip. Bumps and pot holes dont upset it, either: you do notice them, but even in pricier models with lower-profile tyres, theyre kept firmly at arms length.

As weve mentioned, the Tiguans option list can ambush you if youre buying new. But its list prices are very competitive, and so are the discounts you can get if youre willing to work at it. Itll hold its value better than a lot of small SUVs, and a well chosen diesel will combine excellent fuel economy and low emissions with all the performance youll need. Thus its a good car to buy, own and sell, too.