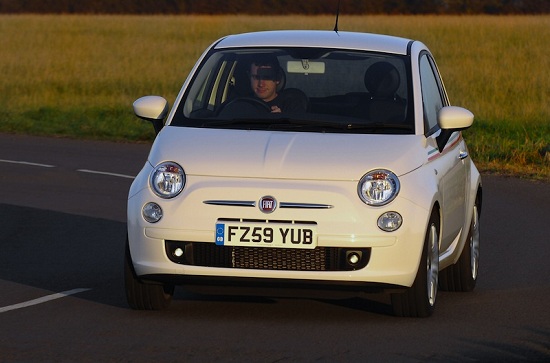 Cheap to run and still as cool as ever!
When the 500 first appeared, no-one could quite believe how cool it was. That was almost five years ago, and theyve become a common sight on the road. But theyre still cool.
The entry-level 500 is quite sparsely equipped, with good safety gear but no space for alloys or air-con save for on the options list. These show up on the TwinAir, while the TwinAir Plus gets Bluetooth and the air-con turns into climate control. Move on up to Lounge, and the climate turns back into air-con. Unless its a TwinAir Lounge, in which it stays. Are you following this? Lounge models also get a split/fold rear seat instead of a single folding bench, as well as a full-length glass roof. But one of the best features of the 500 is that theres a huge range of colour and accessory options, both inside and out. Thats why you see so many funky personalised ones going about which is definitely a very big part of its appeal.

The 1.2 petrol is the entry-level option it gets ticket prices down below ten grand, but without it youre looking at more than eleven and a half. It does a decent job of pulling the 500 around in town, revving away happily to itself as you go. But if you want to hit the open road, itll soon start sounding breathless, and overtaking is definitely not its strong point. The TwinAir is usefully livelier, but its main attraction is how close it gets to the diesel in terms of fuel economy. Its emissions are even better, putting it in the lowest bracket for tax. But the diesel is the one to go for. With plenty of low-down torque, you dont need to drive it hard to get the most from it, and that makes it easy to improve on its official figure of 72.4 mpg. As for the Abarth, that has a snortingly revvy 1.4 turbo thatll definitely put a smile on your face. Its fuel consumption wont wipe it off, either, even if it qualifies as a gas-guzzler by 500 standards.

Our test car was a Lounge model, whose glass roof meant its interior was flooded with light. Combine this with its ivory dash and brightly chequered seats, and it felt like sitting next to the pool at a hotel by the Med. The seats themselves are nice and wide, but could do with being more snugly shaped for better support. Needless to say, the ones in the back are pretty cramped, but you could fit four adults in at a squeeze. Luggage room is very limited with the seats up, and when they go down the space they create is a bit awkward. Considering its such a small car, though, you can load a lot into it. Youll find it getting untidy up front, though. Theres not a lot of places to put your odds and ends, so youll end up using the passengers seat as a tray. And its contents will soon be everywhere.

The 1.3 MultiJet is the best engine of the bunch. Its strong, revvy and flexible, giving the 500 a decent turn of pace and letting you drive with zero effort around town. When you need to change gear, the five-speed manual is light and, again, easy to use. It doesnt have the snicky precision of a sportier box, but its very satisfying nonetheless. So too is the 500s handling. Its small and nimble in corners, and though theres too much body roll for it to feel like a go-kart, its taut enough to be fun. For low-speed manoeuvres around town, it also has a button that lightens up the steering to let you spin the wheel one-fingered. Somewhere between gimmick and genius, you might say, but you do find yourself using it. One thing you mind find yourself using it for is to avoid speed bumps. Because they come through quite intrusively, especially at the back, where the impact can feel harsh. Aside from that, its ride is quite civilised, dealing well enough with general roughness in the road.

A diesel-engined 500 costs the sort of money that could get you into a pretty decent supermini. So unless you settle for a 1.2, youll find that style comes at a price. Getting a discount is very hard work, too. It might not be the newest it-car on the street any more, but demand is still very strong. Itll hold its value quite well, though. And of course running costs are among the lowest around. More than that, the 500 isnt just a set of wheels: its an identity. And just how much value do you place on owning a car that makes you feel good about yourself?