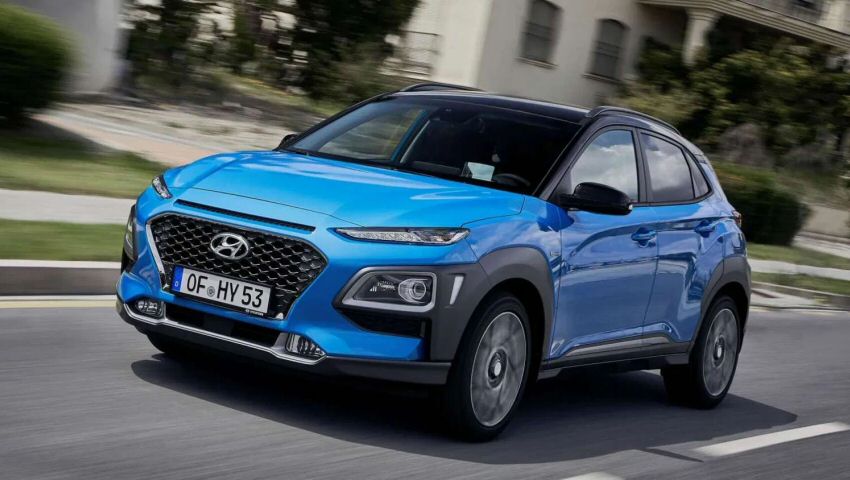 2019 Hyundai Kona Hybrid
In the fiercely competitive world of SUVs the Hyundai Kona has always been a solid choice. The hybrid version now gives car buyers a fuel and tax friendly alternative.
The Kona was first introduced in 2017 and provided funky looks, plenty of features and a decent driving experience and all at a reasonable price. It also had the added attraction of being available as a full electric model. However, the demand for the electric version has massively outstripped supply so those that want this version have been faced with a very long wait. If youíre taken with the Kona and still want to wean yourself off of petrols or diesels a little bit then maybe the 2019 Hyundai Kona hybrid will appeal to you.

Perhaps unsurprisingly the Kona hybrid looks pretty much the same as the regular Kona. However, you can spot its hybridity by its exclusive blue lagoon paint job or, if theyíve gone for a different colour, by two new alloy wheel designs.

Sit inside and youíre greeted by a 7-inch touchscreen infotainment system or, on Premium and Premium SE models, a 10.2 inch touchscreen. They both come with Apple Car Play and Android Auto and also a system called BlueLink. BlueLink is basically a telematics system that lets the driver lock or unlock the doors using an app. The app will also let you find fuel stations, tell you what the prices are and even help you find parking spaces. The interior is stylish and spacious enough to forgive a few hard scratchy plastics while the driving position is more hatchback than SUV. You sit quite low in this car but thereís plenty of adjustment in both the driverís seat and steering wheel to help you find your perfect position. Thereís a decent amount of space for four adults, five at a squeeze, in the back However, the boot is somewhat on the small size for a car in this class.

Under the bonnet of the Kona you get a 1.6 litre petrol engine with 105 brake horse power (bhp). This is coupled with an electric motor adding an extra 43.5 bhp. Due to some rather confusing math this gives you a grand total of 141 bhp to help propel you along. Taking everything into account itís really not a bad set up at all especially when you consider that itís considerably cheaper than its only real small SUV hybrid rival, the Toyota CH R hybrid. Neither the throttle response or steering response are exactly the last word in sharpness but thereís enough low-down grunt from the electric motor to make it spritely enough for everyday use. Itís important to note that this is not a plug-in hybrid. Itís a regular hybrid which means that it can run on electric power alone. However, you canít plug it into the mains to top up the battery. Recharging comes from capturing kinetic energy when you lift off the gas or brake. The Kona comes with a predictive energy management system that aims to maximise the balance between petrol and electric power to help optimise fuel consumption. However, a lot of what it does is reliant on you having your route plumbed into the sat-nav. So, if you happen to be using something like Waze or Google Maps through Apple Car Play or Android Auto then it wonít work. Saying this, you do still get a lot of information through the driver display which lets you know how economically youíre driving. Therefore, itís quite easy to keep track on how much fuel youíre using or not using.

The ride in the Kona is pretty decent and the handling is ok too. It certainly canít be classed as amazing but the type of driving youíre likely to do in a car like this means itís totally acceptable. The main thing is that you and your family will be more than comfortable and you yourself will feel confident behind the wheel. Safety-wise, Automatic Emergency Braking is not fitted as standard in the Kona except for the top-spec trim. This is a bit of a shame considering its main rival, the Toyota CHR hybrid, has this as standard on all trims. In fact, there are quite a few safety systems that are only down as optional on the Kona.

The Kona further adds to the considerable appeal of Hyundaiís small SUV. With the diesel version now discontinued the hybrid really does give you a fuel and tax friendly alternative. It remains a striking and comfortable car that now gives you extra eco credibility without having to take the full plunge into full electric car ownership. You also get all this for a price thatís pretty much unmatched for this type of car. If you like the idea of owning a Kona then take a look at what we have to offer by heading down to the used Hyundai Kona cars for sale section on the DesperateSeller.co.uk website.