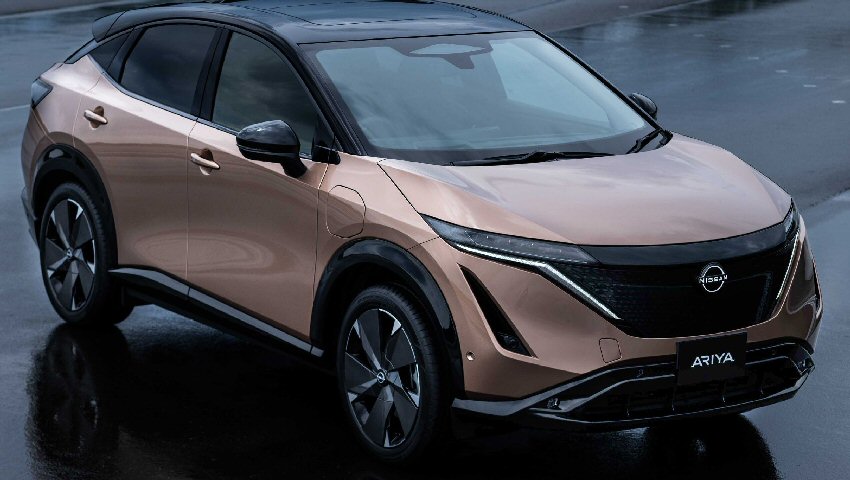 A quick look at the Nissan Ariya
With its bold styling, 310 mile range and 389 brake horse power (bhp) the Nissan Ariya could just well be the electric car many people have been waiting for. Itís not like Nissan hasnít got form for big hitting market shake ups either. In fact they started the SUV boom with the Qashqai way back in 2006 and followed that up with the similarly big-selling Juke 2010.
So, in 2021 will Nissan be leading yet another massive watershed moment but this time for electric cars? Well, theyíve actually started the journey already with the Nissan Leaf which was launched ten years ago and since have sold half a million of them. Even though itís been taken over by rivals in recent years in terms of quality, it will still be remembered as a true EV pioneer. An entire decade of electric car experience means that Nissanís Ariya stands a very good chance of jolting the electric SUV class into life.

Thereís no doubting that the Ariya is a big SUV. Itís actually bigger than the Qashqai and in fact roughly the same size as the upcoming Volkswagen ID.4 which will be one this carís main rivals. The Ariya is based on the 2019 concept car of the same name and hasnít really changed all that much for the production version. You still get the strong LED lights, lots of strong lines on the bodywork and a Nissan badge thatís backlighted with 20 LEDs. You also get the sloping rear roof line with a one-piece light bar along the rear.

Step inside the Ariya and youíre greeted with quite a minimalistic interior. There are very few buttons on the central console or dashboard. Instead you have touch-sensitive areas for the climate controls along the dash which vibrate slightly when you press them. Thereís a head-up display and two 12.3 inch screens which provide a digital driver display and infotainment. Itís also possible to customise whatís shown on both screens. The car can also receive updates over-the-air so new infotainment features can be fitted without the need to visit a dealer, something lots more manufacturers seem to be doing now. You even get a ďHey NissanĒ voice recognition system which is similar to Amazonís Alexa, yet another feature that seems to be more and more common in new cars.

With regards to range and power there are five versions available for the UK. Thereís a choice of a 63kw or 87kw hour batteries with either rear-wheel-drive or four-wheel-drive. The smaller battery fitted with two-wheel-drive can take you 223 miles between charges and provides 215 bhp. For the longest range youíll need to opt for the two-wheel-drive version of the 87 kw hour battery. This will take you up to 310 miles and also brings the power boost up to 239 bhp. At the top of the range sits the Ariya Performance which gives you 389 bhp and a range of 248 miles. It can also cover 0 to 62 miles per hour (mph) in a very spicy 5.1 seconds which is faster than a Porsche Macan.

Looking for the perfect electric car? Then make sure you head to DeesperateSeller.co.uk where we have a fantastic selection of used cars to fit your needs.