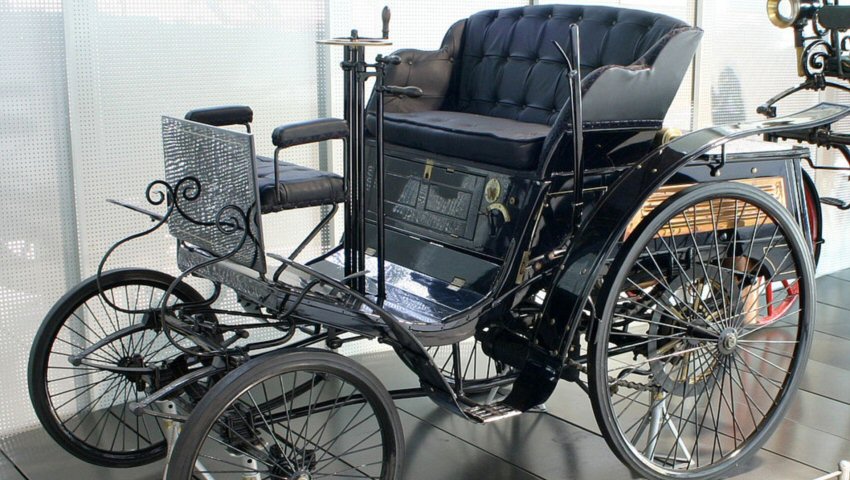 Imagine getting a speeding ticket for 8mph!
We've said it before, of course, but we make no apologies for saying it again: the world is a strange place. If it weren't, there wouldn't be a world record for the longest metal coil passed through the nose and out of the mouth (11 ft and 10.91 ins, currently held by And Andrew Stanton), Elvis wouldn't have been a natural blonde (it's true, he used to blacken his hair with shoe polish), and Nicholas Cage wouldn't have had an octopus as a pet (he paid &pound150,000 for it).
Given such weirdness, you'd think – wouldn't you? – that nothing could surprise us. But it can. And often does. Day after day, we stumble across facts which are surprising to the point of jaw-dropping. But they're true all the same. Did you know, for example, that vending machines kill more people than sharks? Or that Cleopatra lived closer in time to the first moon landing than to the building of the Great Pyramid? Or that humans share 50% of their DNA with bananas? Actually, come to think of it, perhaps that last one isn't so surprising, given the existence of Donald Trump and Simon Cowell.

The point is, that surprising facts lurk behind just about every bush in life. So we thought it might be fun to go looking for some from the automotive world. Now, it's true that, compared with those above, the ones we found are pretty tame, but we thought we'd share them with you anyway. We hope that at least one or two of them will raise an eyebrow.

Speedy Gonzales
The very first person to get a speeding ticket was doing 8 mph. No, really, he was. His name was Walter Arnold and, one fine day in 1896, he was spotted doing four times the legal limit (2 mph) in his motor carriage (as cars were called then). But that's not the surprise – the surprise is that the incident was deemed to be a high-speed chase, as a constable on a bicycle had to chase him down!

Ouch!
We're not sure what the size of the fine was on the occasion just described, or even if there was one. But one thing's for sure – any fine involved wasn't as big as the one issued in Switzerland, in 2010, to a man caught driving his Mercedes SLS AMG at 186 mph (more than two and a half times the local speed limit). Since, in Switzerland, speeding fines are based on driver income, together with how much the speed limit is exceeded, the fine on this occasion amounted to the (then) equivalent of a cool £1,000,000!

Look behind you!
What's the main purpose of a rear-view mirror? To see what's behind you, right? Well, yes. These days, that's true. But that wasn't why it was invented. In fact, its original purpose can be traced back to 1911, when the Indianapolis Racer, Ray Harroun, installed a mirror on his car to replace the mechanic who rode shotgun. But, while it's true that the mirror helped Harroun see behind him, the (brick-paved) roads were much too bumpy to make it even remotely effective. Much more important – and the main reason for installing it – was the fact that the mirror made his racing car much lighter, and therefore significantly quicker. Strange, but true.

Just a minute
And here's another trivial pursuit question: what's the fastest time ever recorded for changing an engine? Most people, when asked this question, start thinking in terms of hours. Some daring souls might hazard a guess in terms of minutes. Both are wrong. The real answer is a matter of seconds. Forty two seconds, to be exact. In 1985, a team of five British Marines swapped out the engine of a Ford Escort in less than a minute - including driving a full 10m to prove it had been done correctly. Try doing that with your 2020 Audi A6!

Credit where it's due
Most people think that Karl Benz was responsible for introducing the modern world of the motor car? And they're right. Sort of. He certainly patented the first gas-powered automobile. But his wife, Bertha, deserves a lot of credit, too. Having decided to prove the merits of her husband's invention, she went on a trip (accompanied by her two teenaged sons) in the Benz Model III. Despite encountering a whole load of mechanical problems on her journey from Mannheim to Pforzheim, she persevered, and – by the end – had developed leather brake pads (to replace the failed wooden brakes) and decided that the car not only needed a third gear but a better cooling system and a fuel tank. Some argue that had she not taken this test drive, the automotive world may never have developed as it did.

Now that's what we call quality!
With so many cars produced in the world each year, it's hard to believe that any manufacturer can claim that the majority of the cars it has made over the course of history are still in use. But Rolls-Royce can. It might be hard to believe, but according to The Economist, some 75% of Rolls-Royce cars built in the brand's long history were still being used in 2018. Amazing.

To finish with, here's another fact, though this one certainly isn't even vaguely surprising. It's this: if you're looking for a used car, there's no better place to look than the DesperateSeller.co.uk used car section. Here, you'll find a huge selection of fantastic bargains, from a Fiat 500 to a BMW 5 Series.