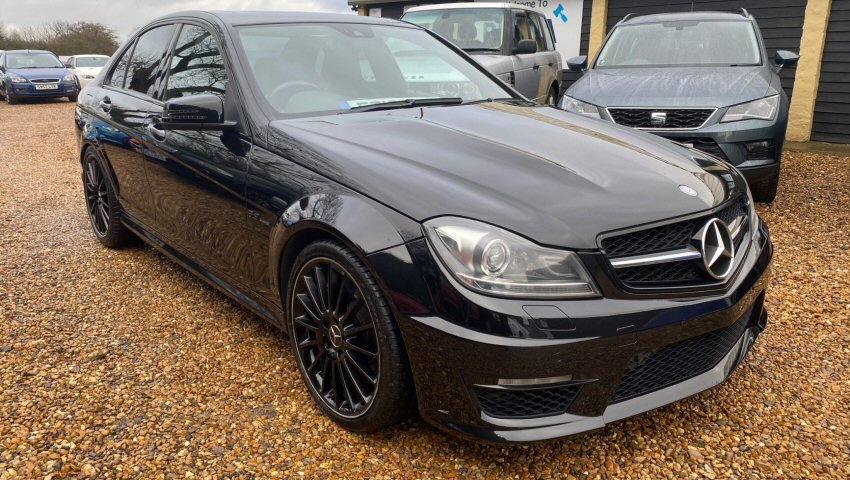 Caught in the classifieds: 2012 Mercedes C63 AMG
In this week's 'Caught in the Classifieds' section, I'm highlighting one of my personal favourite cars ever made. It is, of course, the Mercedes-Benz C63 AMG. Built and designed as a rival to the BMW M3, the C63 AMG is one of the silliest and most ridiculous performance saloons ever created.
Mercedes is known for their focus on luxury and comfort above anything else, and that used to include their AMG line up in the past as well. Their philosophy has always been relatively simple: shove a big engine in a small body without sacrificing comfort or opulence as much as possible.

The C63 AMG perfectly embodies what Mercedes and indeed AMG are all about. Instead of chasing a motorsport feel or designing the perfect track weapon like BMW has done with the M3, Mercedes stuck to their core values with the C63 and by doing so they created one of the most charismatic saloons ever made.

This particular C63 AMG example I found on our website is a 2012 model with just 74,000 miles on the clock. It seems to be in mint condition with little to no visible defects. I'm genuinely shocked that you can have this much performance for just over £20,000. If you want to buy a new car with similar performance such as a brand new BMW M3 or a brand new C63 you're looking at upwards of £80,000, possibly even north of £100,000 if you tick a few options.

At a quarter or a fifth of that cost you can have just as much performance and a whole lot more character and charisma, not to mention a glorious noise which we'll get to in a bit.

Exterior
From the outside, the C63 looks as mean as any other performance saloon on sale. More to the point, it looks much more muscular than the latest C63 AMG because its lines are sharper and its features are much more pronounced. Compared to the newer version, it looks about 50% more aggressive and a 100% more eye-catching to public onlookers.

This is a facelifted model which means it gets the newer front fascia with the redesigned bumper and the new headlights. If I'm honest, I much prefer the pre-facelift headlights, but the C63 AMG looks just as good with these style headlights as it did with the previous ones.

You can instantly recognise that it's an AMG model by those massive air openings in the front bumper and the bespoke AMG wheels hiding underneath those massively flared arches. It has an amazing stance on the road, so it's no wonder that it turns a lot of heads wherever it goes.

From the back, it's even more apparent that it's an AMG model thanks to that rear diffuser and the quad exhaust pipes. You don't have to be an AMG fanatic to quickly realise that this is something special and not a base C-Class.

Interior
Inside, the C63 AMG looks a bit dated by most modern standards, but it still has all the features one might come to expect from a luxury car. The build quality is superb, much better than the C63 which followed it in my opinion, as there are very few squeaks and rattles even today, some 8 years after this particular example was built.

What I absolutely love about the facelift model is that it gets the newer steering wheel. It looks much more modern and it feels sportier than the one found in the pre-facelift version, and it finally fits the character of the C63.

The seats are superb as well. Chris Harris, one of the most respected car journalists and current Top Gear presenter, once said that the seats in the C63 AMG are some of the best performance seats he's ever experienced. Having been fortunate enough to get a ride in a C63, I have to agree with Mr. Harris.

Elsewhere, the C63 AMG is basically just a normal Mercedes Benz C-Class. This means you get a really practical boot, tons of headroom and legroom in the cabin, and a really lovely infotainment system.

Engine and Performance
As with any other AMG on sale, the C63's crowning jewel is its engine. The massive 6.2-litre naturally-aspirated V8 produces 457 horsepower and 443 lb-ft of torque. This means it'll sprint to 60 mph in 3.9 seconds and headbutt the 155 mph speed limiter with ease.

The transmission is a regular torque converter auto which sends all its power to the rear wheels, making it an absolute drift weapon if you want to smoke the rear tyres. The C63 AMG was also the first AMG product which could genuinely compete with the BMW M3. Not only was it faster in a straight line, but Mercedes had finally sorted out the handling and made it corner fantastic as well.

Obviously, it still isn't as sharp as a BMW M3 nor is it as focused about getting the best lap times on a track, but I would argue that it's more fun than a BMW M3 as it's much more lairy and eager to play.

The engine noise from that V8 is positively glorious as well. I would even go as far to say that it's the best engine noise to come out of a performance saloon, especially once you fit an aftermarket exhaust to amplify it.

Model: Mercedes-Benz C63 AMG
Trim: Saloon MCT 7S 4dr
Mileage: 74,000
Price: £20,500
Rating: 9.5 out of 10

Why buy one
The C63 AMG isn't a car for everyone. It's aggressive, noisy, and utterly unnecessary, but then again, that's why we love it so much. If I'm honest, the C63 AMG's biggest drawback is the fact that it consumes fuel at an ungodly rate. If you buy this car, prepare to be on a firstname basis with everyone at your local petrol station. Your wallet will be empty, but you won't care because you'll be grinning from ear to ear each time you take it out for a drive.