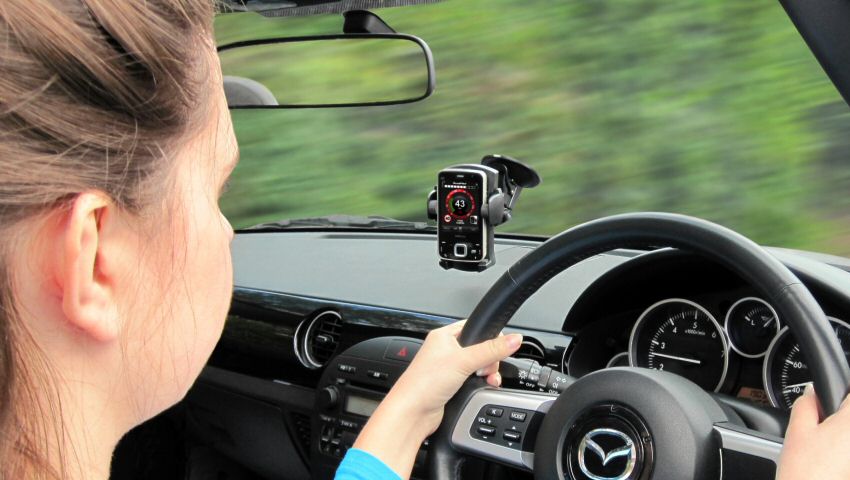 Motoring appiness!
Today, the smartphone Is an integral part of life for most people. Partly, or perhaps even mainly, this is because of the huge variety of apps now available for both Android and iPhone. There are literally thousands of them, designed to make almost every imaginable sphere of life easier in one way or another. And the world of motoring is one of the most active areas of development.
Now, of course, you can't - or shouldn't - use your phone while you're behind the wheel. But that doesn't mean you can't make use of apps. In fact, there's a wide range of motoring apps that can make driving quicker, safer, simpler and more fun. Indeed, so useful are driving apps that some manufacturers have started to incorporate Apple CarPlay and Android Auto technology into selected models as standard. This technology allows you to project your phone screen onto the car's built-in touchscreen, enabling you to use certain apps (e.g. messaging and maps) safely on the move. The list of apps that can be used with these systems is relatively small right now, but it's growing all the time.

So – what are the best motoring apps? The short answer is that we don't know. We haven't reviewed them all. But we thought we'd have a quick look at five which strike us as worth a look. So, without further ado. . .

JustPark – Free - iOS & Android
Finding a parking space can be frustrating – especially if you're somewhere that's unfamiliar or it's a busy time of day. JustPark will help, by allowing you to search - and pay - for a space, and then guiding you to it. The app also lets you extend your time on-the-go, if you end up staying longer than planned. Now, it's true that there are other parking apps – but where JustPark has the edge is in the large number (20K+) of reservable locations on the system. You can even use it to rent out your own parking space.

Waze – Free - iOS & Android
Owned by Google, Waze is – basically - just a turn-by-turn satnav app. But it's also a lot more – which is why it's made a huge dent in the traditional sat-nav market. And one of its most powerful features is that it allows other 'Wazers' to report incidents, so the real-time traffic reporting is highly accurate. Other users can also flag up specific aspects of their route, such as events, shortcuts and scenic routes, or whatever else they want. All-in-all, Waze is a novel and powerful navigation tool – made even better by its price (free).

Tile – Free (for the app only) - iOS & Android
You know the feeling – the sense of rising panic when you're just about to leave the house, running late, and you realise you can't find your car keys. Well, with this app, it need never happen again - you'll always know exactly where your keys are. All you do is add a Tile device (the app is free, but the small Tile transmitter costs, typically, £12 - £15) to your keyring, and it connects to the app via Bluetooth, letting you instantly locate the missing item. It's worth noting that you can attach a separate Tile device to multiple items, and give each a different name, so you can keep easy track of all your often-misplaced things. Very handy!

Travel Bingo – Free – iOS
Keeping kids – in fact, any passenger – entertained on a long car journey can be a challenge. Let's face it, there's only so many rounds of 'I Spy' you can play before your knuckles start going white. That's where this app can help. Simple, entertaining and highly enjoyable, Travel Bingo works by presenting various objects (called 'tiles' – no relation to the Tile app) that you typically see during a car trip, and lets you click them off as you spot them. You can play on your own, or against other people. With the free version of the app, you get only a limited number of tiles, but for only £2.99 you get access to lots more motoring environments. Note that, right now, the app is exclusive to Apple, but there are lots of similar Android options, such as Car Bingo and Bingo Journey.

Aviva Drive – Free - iOS & Android
More and more insurance companies are now offering Telematics or 'black box' policies, designed to lower premiums by basing them on the way the policy holder actually drives. To do this, they use devices to record data such as speed and acceleration, so that the insurer can assess how safely you drive. This app allows you to try a telematics system without having to worry about being penalised for 'poor' or 'unsafe' driving – it simply monitors your driving and gives you a score out of 10 after 200 miles. If you get a low score, no worries - you can simply uninstall the app. But if you do well, it could lead to a cheaper (by up to 20%) insurance policy with Aviva Insurance. It's worth noting that the app also has a dashcam feature that records video of the road ahead, and automatically saves the footage.

And that's it, for now. But there are plenty more fun and useful apps around – it only takes a minute or two to carry out a search for more. Something else that only takes a minute or two, is checking out the Desperateseller.co.uk used car section. If you're looking to change your car, there's no better place to start, and you'll find - literally - thousands of great bargains there ranging from a Skoda Fabia to an Audi A7. Why not have a browse right now!