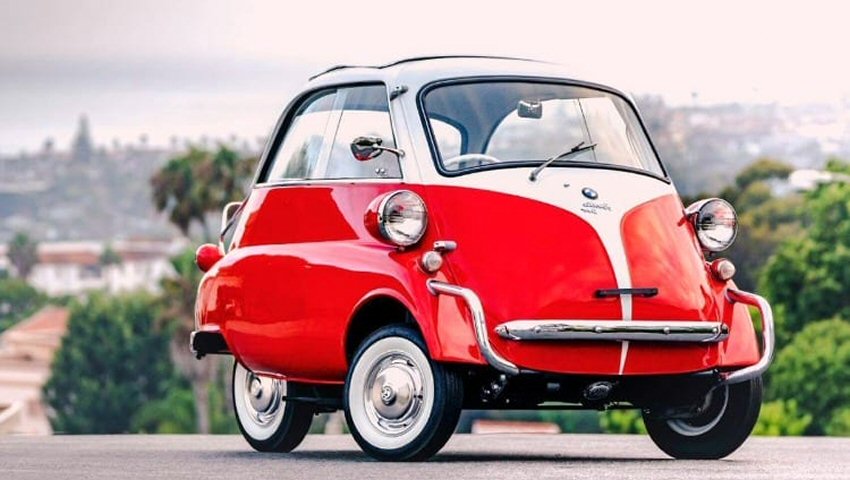 Good things come in small packages
"Said to emphasize that something does not need to be big in order to be good". This is quite true for a variety of contexts, including cars. Over the evolution of the motor vehicle, the small or compact car has arrived in many guises and styles. Sometimes born out of necessity for space in densely populated cities, price point or simply an exercise in engineering ingenuity.
The Isetta. Sold under license by BMW, was the most popular micro or bubble car (as it was nicknamed) launched in 1955. With room for 2 Jockeys it was the dry alternative to a motorbike. In a similar style but with room for just the driver, the minuscule 1.3 meter long Peel P50. Designed and manufactured by Peel Engineering located on the Isle of Man. It came to fame in 2007 by Jeremy Clarkson's antics on Top Gear. Both are extreme machines that would frankly be dangerous in today's rush hour traffic. Another micro icon with its 70 mph plus top speed was the famous, orange only, Bond Bug. With futuristic styling and all alloy 4 cylinder power, it became a fun tri-wheeled cult car of the quirky 70's.

Population and pollution pressures in Japan were the catalyst for the "Kei Car". The Japanese government in 1949 created this small vehicle category and cars had to meet size, engine capacity and power output measures. The regulations for the Kei car still exist today having evolved over the years. In 2018, the top 4 out of the top 10 selling cars in Japan were Kei cars. Daihatsu, Suzuki, Mazda and Honda all make compact cars for mobility and some had found their way into European markets. Offerings from Daihatsu as the Charade, and the tiny Copen convertible. Suzuki's mini jeep the LJ range (later became the Jimny) and the Swift in the 80's. The Seuz energy crisis sparked Sir Alec Issigonis to design the revolutionary Mini in 1959. Now in the hands of BMW it's missing the original design brief but has been developed into a great brand. Just before the original Mini, Fiat produced the Fiat 500 from 1957. Designed to be affordable transport for families it's now morphed into an oversized Mini MPV bearing no relation to the original but still a strong seller.

Over the years a common question I've been asked is "What small runabout should I buy?", and I was recently tasked with solving a similar dilemma. The brief was Economical, 50mpg at least. Low value or £100 per month on a PCP finance agreement, automatic but a must have is heated seats. That was easy, I actually drive one that matches those needs. I have been a secret fan of the Smart car since its launch back in 1998. In 2000 I purchased 2 of them as service courtesy cars when I worked for Caterham Cars, sadly they didn't get employed for various reasons but were an eye opener. Ideal transport for a small commute costing next to nothing to run. Now with the 3rd generation car as a 3 or 4 seater and the option of a manual or a proper automatic, ditching the dodgy softtouch gearbox, it's now become a safe, well-appointed and frugal daily. Benefiting from Mercedes Benz build quality and a specification normally lavished on bigger more expensive vehicles. Browse through the hundreds available on desperateseller.com, with many variations you will find a specification that suits. Having financed, sold and been involved in the early Smart Electrics with Mercedes Benz, I am an advocate, I believe in a machine built for purpose and it does just that, very well.

However, I accept not everyone likes the look of a Smart car. There are alternatives, the Toyota IQ and Toyota Aygo. Derivatives of the VW UP! From Skoda and Seat, Ford Ka, Kia Picanto, Fiat Panda, the list is extensive. In fact years ago I nearly bought a Fiat Panda 100HP for my partner after reading the great reviews at the time of launch. Unfortunately she hated, no, detested it, and her reaction had me worried that if one arrived on the drive I might not wake up in the morning. The small car has a place in transportation history and most new examples for the European market are much safer and unavoidably larger than their predecessors. Nevertheless, if you look in the used market the choice is wide and varied. A small car is economical with a smaller eco footprint that can save a few pounds in overall ownership cost. Whatever you decide don't overlook the latest generation Smart car as you will be surprised and delighted how well it meets the design brief, it really is a good thing in a small package.