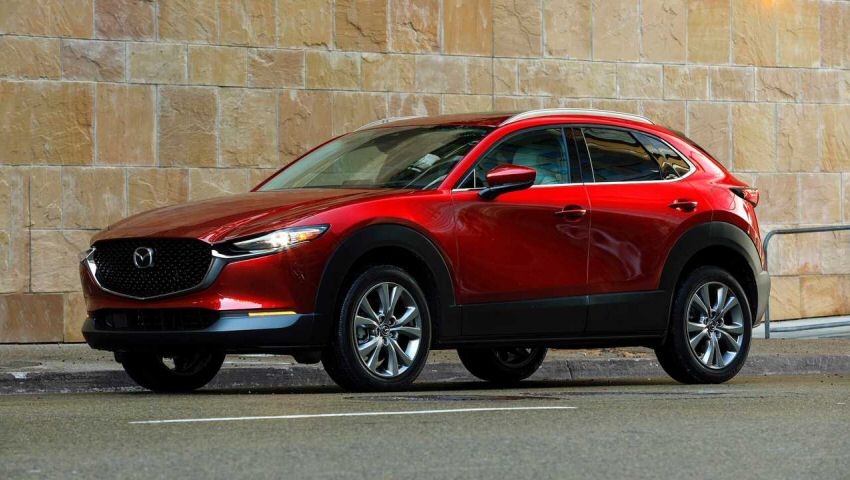 The Mazda CX-5 is still a solid option
Has the Mazda CX-5 had the rug pulled from underneath its feet or does it still have something to offer that its rivals donít? In this short article weíre going to find out.
Mazdaís enduring appeal over a broad spectrum of cars from roadster, estate and SUV is largely based on two key principles. Firstly thereís the intriguingly angular exterior designs. Secondly, thereís its commitment to a sweep of largely genuinely un-turbocharged engines that deliver on their promised mpg (miles per gallon). Both of these things were initially debuted in the CX-5 SUV.

Times have moved on and despite the 2017 facelift the CX-5 is no longer at the sharp end of Mazdaís styling. The more recently launch Mazda 3 hatchback now fills that space. Thanks to more stringent fuel economy testing almost all of its rivals such as the Kia SportageFord Kuga and Volkswagen Tiguan now quote realistic mpg numbers that can now be achieved in the real world too.

At the time of typing the CX-5 comes with three engines. Thereís a 2.0 litre naturally aspirated petrol providing 165 brake horse power (bhp) which is badged the Skyactiv-G. Added to this thereís also a 2.2 litre turbo diesel with either 150 or 184 bhp unit. Front-wheel-drive is standard apart from on the more powerful diesel which is all-wheel-drive. Finally, thereís a choice of a 6-speed manual gearbox or automatic transmissions available.

Mazda is all about the drive which means thatís its interiors are set up to provide as little distraction as possible. What this means is that they can look a little sparse in their layout and lacking some frivolity in the way that the controls are operated. However, just because the CX-5 is set up for ease of use it doesnít mean that itís lacking in style. You only have to take a look at the steering wheel for immediate stylish ques. As youíd expect in a Mazda the driving position is pretty much spot on though in models with a manual gearbox you may find that the clutch pedal is a touch higher than the brake or accelerator. What this means is that is can be quite tricky to get totally comfortable. There are some real highlights to the interior such as the wood-style finish on the dashboard, a BOSE stereo system and an ergonomic rotary infotainment dial. Finally, thereís a head up display beaming information onto your windscreen though this is only available on higher spec Sport Nav+ and GT Sport Nav+ trims. Itís worth noting that the 7-inch multimedia screen with Apple Car Play and Android Auto comes as standard. Unfortunately, itís not all great news in here as there are a few less-good things to report. Most notably are the graphics on the infotainment screen which are not as nice to look at or use as the ones you get on the Mazda 3. Also some areas of the dash look quite out of date but weíre starting to clutch at straws as altogether itís a decent cabin.

Had around the back and youíll find that the rear doors open nice and wide making it easy to get in and out. Thereís plenty of headroom though the leg space is merely average. Comfortability isnít an issue as you can recline the seats to find a nice position to sit in for longer journeys. With all seats in place the Mazda CX-5 comes with a competitive 506 litres of space and has a handy dual height boot floor to stash your things under thatís unless you spec the Bose stereo which means it will be packed with a subwoofer. If you drop the rear seats then you can expect to increase the space on offer to a very competitive 1620 litres.

4 useful things to know about the Mazda CX-5
1. The model line-up starts with the SE L grade which means you get lots of safety kit including autonomous emergency braking, lane keep assist and blind-spot monitoring.
2. When this car was tested back in 2015 it scored a full 5 star EuroNCAP safety rating.
3. All new Mazdaís sold in the UK come with a 3 year 60,000 mile warranty as standard.
4. The CX-5 comes with LED headlights as standard which can be upgraded to adaptive units by opting for the top trims.

With a few noticeable exceptions such as the Ford Kuga and the SEAT Ateca SUVs of this size and type are genuinely a bit dull to drive. However, like the rest of the Mazda line-up, the CX-5 is actually quite fun to drive. This is thanks to nicely weighted linear steering, decent body control and a stack of grip. Our only gripe with this is whether all of this is actually needed in a car like this. We say this because if you wanted all of this in a car like this then why wouldnít you just go for a car thatís lower to the ground like a big hatchback or estate?

None of the engine options are particularly fast or exciting though you do get adequate performance from the diesel engines and also a hard-to-recommend petrol engine. Most of the CX-5ís rivals are powered by smaller engines with turbochargers added to help make up for their lack in size. Whilst this helps drivability and economy it also makes them sound boring and very much like a diesel. This is why itís refreshing to see a car on the market with a naturally aspirated petrol engine. The trouble with this is that a petrol engine in the CX-5 actually feels that itís actually dull on power when compared to these rivals. What it really needs is that mid-range punch like you get from a turbocharger. The new clever compression engine, called Skyactiv X, is available on other Mazda models and offers the best of petrol performance and diesel economy. However, weíre not entirely sure why weíve just told you this as you canít actually get it on the Mazda MX-5 which is a big shame. To be frank, the 150 bhp diesel with two-wheel-drive and a manual gearbox is all the Mazda CX-5 youíre going to need. Itís super-quiet in the cabin thanks to come really clever noise-cancelling technology while the gearshift is absolutely superb. Itís not quite as mechanical as the one you get in the Mazda MX-5 but it is a step up from other SUVs.

Conclusion
If your next car has to be an SUV but you donít want to sacrifice your driving enjoyment then the Mazda CX-5 is a solid option. Sadly itís a car that no longer has that corner of the market to itself thanks to the brilliant SEAT Ateca. As people that really enjoy driving we totally get the Mazda CX-5. We even like the minimalistic and distraction-free cabin. However, our main problem is that despite the facelift in 2017 itís still based on a car from 2012 and for this reason itís starting to lose the fight from newer rivals. Discover thousands of used Mazda CX-5 cars for sale on DesperateSeller.co.uk.