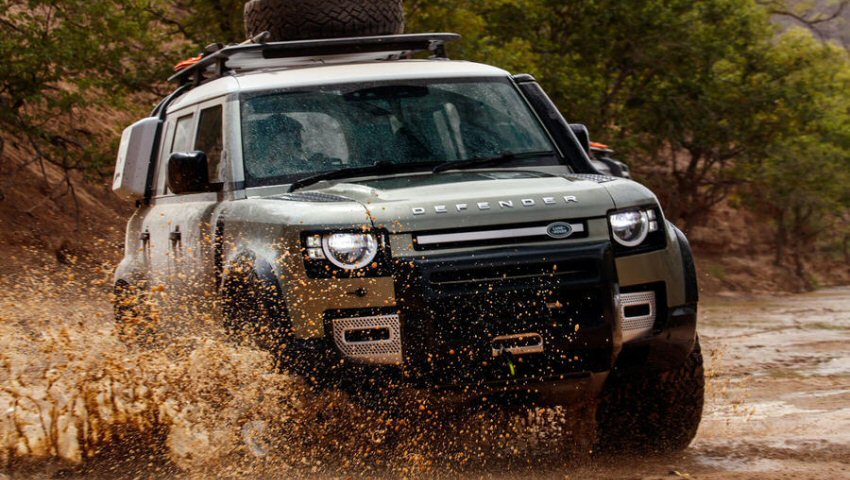 Four Wheel Drive vs All Wheel Drive: What is the Difference?
Here in the UK, we still use the phrase 4X4 as a catchall term to describe relatively tall vehicles that we really should be calling SUVs (Sport Utility Vehicles) these days. The reason we should be calling them that is because 4X4 describes a capability that a lot of today's SUVs simply don't have, which is a genuine four-wheel-drive system.
A lot of people still don't realise it, but all-wheel-drive (AWD) systems and four-wheel-drive (4X4) systems are different from each other, and many modern SUVs now come standard with a regular front-wheel-drive system to keep prices down.

Let's take a closer look at AWD and 4X4 systems to understand what they are, what they do, what the difference is, which one you need and whether you really need either of them.

When a 4X4 isn't a 4X4
I have to admit that I do get a little frustrated when I hear someone refer to something like a Ford Kuga or a Peugeot 2008 as a ˜four-wheel-drive.˜ While some of these models are available with the option of an all-wheel-drive system, some, like the Peugeot, don't even offer AWD as an option. The latest Peugeot 2008 may be an excellent little crossover SUV, but in no way shape or form is it a four-wheel-drive.

It does tend to be the smallest models that are increasingly lacking any form of AWD or 4X4 system, but if you look at the American market some extremely big SUVs are also being increasingly offered in two-wheel-drive form.

What is AWD?
All-wheel-drive is a vehicle powertrain that is capable of driving all four of the wheels when required, but AWD systems are more complicated than traditional 4X4 systems and are also a much more recent innovation. AWD systems are much more intelligent than the old-school 4X4 system you'd find on something like an old Land Rover Defender.

AWD systems constantly monitor the traction of the wheels and sends varying amounts of power to different wheels when required. If the system detects a lack of traction with one wheel it will send additional power to another wheel that has better traction. This is a much more user-friendly system that suits a wide variety of vehicles from SUVs capable of some reasonably hardcore off-roading to entirely road-going supercars like the Audi R8.

What is 4X4?
If you want to drive in the untamed wilderness with the least chance of getting stuck, it's a proper four-by-four system you need. These are the systems you'll find on classic off-roaders such as the Mercedes Benz G-Class, Jeep Wrangler, Toyota Land Cruiser and the Land Rover Defender.

On the whole, a proper four-wheel-drive system sends the vehicle's power to all four wheels on an equal basis without vectoring, which is the flexible distribution of power delivery between different wheels or axles.

These systems are not suitable for normal driving on a tarmac road as they can make even simple actions we normally take for granted, such as turning around in a tight space, extremely difficult. Therefore, these systems will often be part-time so you can turn them on or off so you can use two-wheel-drive on the road. They will also have the facility to choose between high and low gear ratios for even greater off-road performance and capability.

Do You Need 4X4 or AWD?
Unless you need to drive where there's no such thing as a road surface, you don't need an old-school four-wheel-drive system. In fact, it's easy to make a case for there being no need for your vehicle to have AWD either. On the other hand, AWD can be useful and desirable in some circumstances as long as you use it for what it's really intended.

AWD on a supercar is all about having more traction for better performance. It's got nothing to do with off-roading in the Brecon Beacons. If you think of it in similar terms to traction control, ABS and other driver-assistance systems, or for safer driving in wet or icy conditions, AWD can be valuable.

Do you need 4X4 or AWD? Probably not. Do you want to buy an SUV or crossover that's front-wheel-drive only and doesn't have four-wheel capability? Probably not, especially if you want to get a decent price for it when you want to sell it.