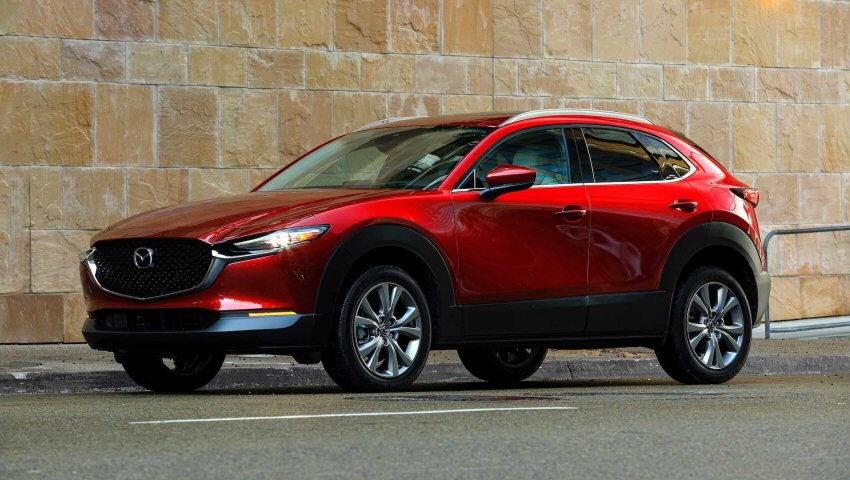 A short preview of the 2020 Mazda CX-30
The car in our photo is the 2020 Mazda CX-30 SUV and as the name suggests it provides a middle ground between the more smaller Mazda CX-3 and larger Mazda CX-5. This means that itís in direct competition with cars such as the SEAT Ateca, Nissan Qashqai and Volvo XC40.
The CX-40ís platform is shared with the Mazda 3 hatchback and the interior is extremely similar too. This isnít a bad thing as both quality and equipment levels are high as is the standard of the general layout. Pretty much everything is where youíd expect it to be. The infotainment screen, which sits neatly is a dashboard alcove surrounded by leather, can be controlled by a simple rotary dial. Unfortunately, itís not all perfect in the cabin as the rear seat space is comparatively cramped and difficult to access thank to such small doors. Meanwhile, the boot is of an average size and matches what the Nissan Qashqai has to offer.

Itís only when you get out on the road that the CX-30 is able to show of its party-piece. For a family SUV this car really is a lot of fun to drive. It has sharp and well-weighted steering and decent body control. Itís a comfortable drive and delivers a ride quality thatís actually better than its Mazda 3 hatchback sibling. The only drawback to the driving experience is that not everyone will get along with the two engine choices on offer. Both are 2.0 litre petrols that do away with turbo-charging. What this means is that thereís not as much in-gear pulling power that youíd get in, letís say, the 1.5 litre TSI unit you find in the SEAT Ateca. As thereís no diesels on offer it means that if long distance fuel economy is your ultimate priority then it may be worth you looking elsewhere. Your gearbox options comprise of either a 6-speed manual or automatic both of which are very good.

In summary the CX-30 is a well-equipped, nicely built and good to drive alternative to the regular family SUV crowd. The lack of a diesel engine may put some people off. However if you donít cover big miles on a regular basis then itís a car thatís certainly worth considering. If youíre interested then donít forget to head to DesperateSeller.co.uk where we have a multitude of used Mazda CX-30 cars for sale.