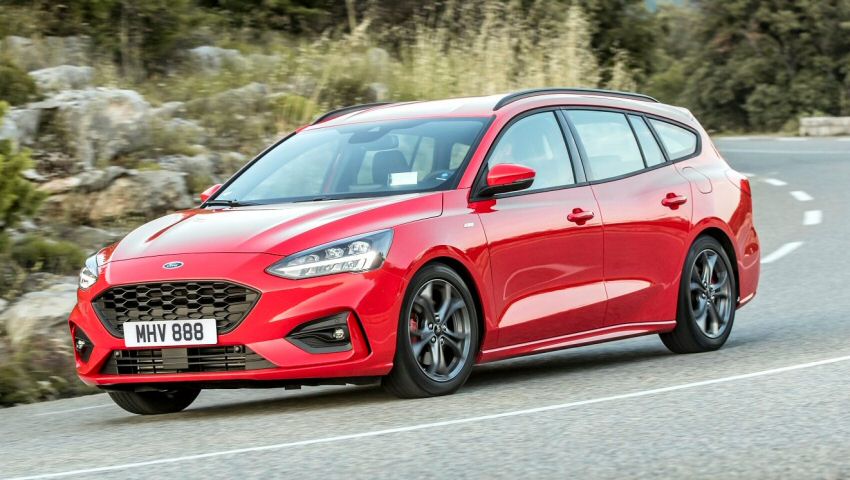 The best and not so best bits about the 2020 Ford Focus estate
The car in our photo is the 2020 Ford Focus. However, itís the big booted version of one of the UKís best-selling family cars. Why are we featuring it? Well, itís car that may make buyers question whether they actually need an SUV.
This opening statement may seem a little controversial given just how poplar SUVís actually are at the moment. However, the Focus estate really does have plenty to offer. Whether youíre a keen driver or just want a car to load up with stuff itís ideally suited. In this article weíre going to tell you a bit about its best and not so best bits.

Looks
The latest Ford Focus stands out a lot more than the old one. It now has a striking and confident appearance and is generally attractive in some trim levels. Lashings of chrome make the top-spec models even more eye-catching. We think this current design is a lot more cohesive too. The previous Focus looked like it was a hatch-back with a box bolted on the back. However, the new one is a whole lot better.

Interior
You honestly wouldnít think that the interior of the current car was made from the same company that made the previous Focus. All of the buttons have disappeared and many of the functions are now controlled by a slick touchscreen instead. Space is also pretty good, which is something you couldnít really say about the old car. Now you can actually fit 5 average sized adults inside and all their stuff in the boot. The boot, by the way, is actually bigger than the one found on the Ford Mondeo.

The boot
We wonít lie, the boot space should be big enough for nearly all of your family requirements. Whether thatís for family holidays, runs to the tip or transporting mountains of flat-pack furniture. However, itís not the biggest boot in the class. For that youíll need to head in the direction of the Kia Ceed Sport Wagon, the Peugeot 308 SW or a Skoda Octavia Estate.

The drive
The Ford badge on the steering wheel means that youíre in for a good time if you show the Focus estate a set of twist country roads. Due to the fact you sit low to the ground means that you donít get the body-roll that you get in an SUV and it also feels both agile and precise. The Focus Estate has plenty of sensible engines if fuel economy is a top priority for you. However, if youíre a bit of a petrol head then thereís also a potent ST model with up to 276 bhp (brake horse power). This means it will launch from 0 to 63 miles per hour in under six seconds!

Image
An awful lot of people drive Ford cars. Think of the cars that your friends and family drive and you can bet that plenty of them have one. This isnít necessarily a bad thing but it does mean that Ford lacks the same upmarket image as BMW or Audi no matter how hard it tries with its Vignale models. Despite how good this car is to drive the Ford Focus name just isnít one that gets people excited.

Aftersales
Ford has the largest network of dealers and reasonable servicing costs. However, it appears that customers arenít always impressed with their experience at a Ford garage. However, this wonít put too many people off as the Focus and Ford Fiesta are the two best-selling cars in the UK.

So, there you have it. Some of the best and not so best bits about the Ford Focus estate. If youíre upgrading from your old estate then be sure to take a look at the used Ford Focus Estate cars for sale on the DesperateSeller.co.uk website. Weíre sure youíll find it a more upmarket car while this latest model is much better to drive than almost all of its rivals. It will suit you whether youíre after performance or efficiency and if you require a big boot.