In this article we're going to take a look at some second hand hot hatchback cars for petrolheads on a budget. A hot hatchback is all about taking a normal hatchback and ramming a bunch of chillies up its exhaust to make it a performance machine. We've picked out some of the ultimate hot hatches that you can now buy for as little as &pound2,500.
First up we've picked a car that red-lines at a screaming 8000 rpm (revs per minute) and carries a badge with serious kudos – the EP3 Honda Civic Type R. This car was first manufactured back in 2001 and ran until 2005. Back in 2001 you would expect to pay £15,995 but you can buy one today for as little as £2,500.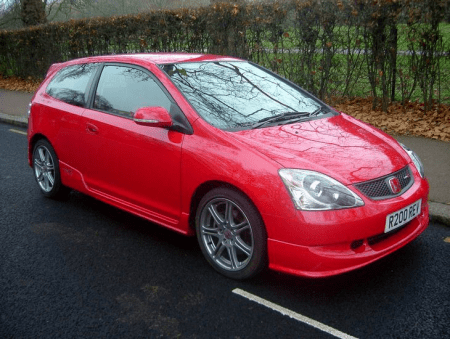 When you drive this car it's all about the revs and it's this that make this car so special. It's got a 197bhp, 2.0 litre VTec engine that will get you from 0-60 in just 6.8 seconds. It will go on to 146 mph but what makes it so involving is that the gearstick is mounted on the dashboard so you get the feeling or stirring the most manic of whisks. The steering is quick and in tune and the throttle response is like lightning. This makes the Type R a really exciting car to drive. Couple this with Honda's fantastic reliability and build quality makes this Civic an all in all fantastic car.

While the Civic does have a good reputation here are some check to get the best possible example on your drive:

1. When you're out on a testdrive check that the steering self-centres itself properly when you come out of a corner. If it doesn't do this then it could indicate that there's a steering-rack failure and this could cost £1500 to replace.
2. Listen out for any engine misfires or any lights up on the dash as this could be a timing chain problem that will cost £600 to repair.

The Honda Civic offers exciting and reliable daily driving but up the budget a bit to around £5,000 and you could get something properly lairy, something like the Alfa Romeo 147 GTA. The 147 was made between 2003 and 2006 and cost approximately £22,500 brand new.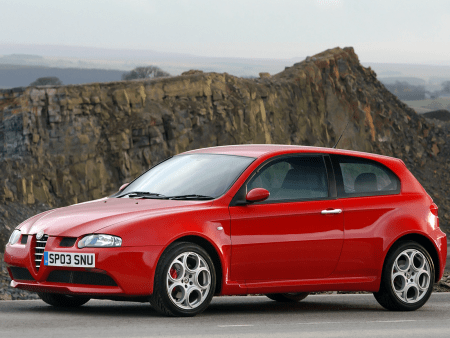 The Alfa Romeo 147 is a great example of the hot hatch power formula. Alfa basically took its smallest model and rammed in a whopping great big engine in the guise of a 3.2 V6 providing 247bhp. When you drive this car the first thing you'll notice is the glorious soundtrack that this engine plays. As you'd expect with Alfa Romeo the interior is fantastic and it has some really nice touches throughout such as the brown leather door trim and beautifully sculpted dials. It really does give you the impression that you're sitting in a really expensive upmarket car.

The 147 will get you to 60mph in just 6 seconds which is faster than the Civic by nearly a second. Also this car will comfortably go over 150mph which is pretty impressive for a car in this class. Overall, the 147 still looks and sounds fantastic but it wouldn't be an authentic Alfa Romeo without its share of problems to look out for. Here are a few:

1. A clutch should last about 50,000 miles so if you feel that it's slipping or that it's particularly heavy then you could find yourself with about £700 slipping out of your pocket.
2. As with all small car big engine combinations, access is extremely tight. Therefore the cambelt interval is certainly one to look out for as it's a labour intensive £600.
3. If you hear any mechanical knocking when you're going over bumps then it could mean that the lower wishbone ball joins are on their way out and these cost just over £200 each to replace.

Finally, if you desire ultimate attitude and rarity and have around £15,000 to spend then we have something very special to finish with – the Renaultsport Clio V6. This version of the Clio was first manufactured back in 2003 and ran until 2005. Back in 2003 you would expect to pay £25,995 but you can buy a used one today for as little as £7,000.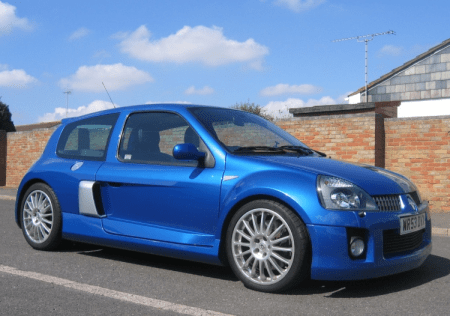 The Clio is a hot hatch that thinks it's more of a supercar. For example, instead of a back seat in its place you'll find its engine. This engine produces 255bhp from a V6 unit making this car mid-engined and rear wheel drive. What this setup does is make this car fun and excellent to drive. Not only have you got comfort but you've also got a whole heap of sportiness. The steering is quite light which is probably a result of there being so much weight in the back. What this does is give you a slight impression that the car is tipping upwards. The noise from the engine does make it sound as though you've left the boot open because that's all you can really hear while you drive.

The Renault Clio is certainly the quickest of our trio of cars as it takes just 5.8 seconds to hit 60 mph. Also, the ride quality is by far the best and is the most sure footed of the three cars. It seems to really squat down and hug the road giving the driver great feedback and confidence. The exterior may split opinion slightly but you can't argue that it does look pretty spectacular for a hatchback. Unfortunately, this is not replicated inside as you won't feel all that special looking out. In fact, you may as well be in the standard 1.2 litre version.

The Clio V6 is without doubt going to be a future classic but to make sure you spend wisely there are a few things that you need to look out for. Here's a few:

1. Most of the body panels are bespoke and this means that they're expensive. For example, the side impact pods alone cost £700. If you're unfortunate enough to prang the bumper then you could be looking at a bill of £1400!
2. You have to change the cambelt every 5 years. This means that mechanics will have to take the engine out so you may as well do the water pump while you're at it. To do this you'll be looking at a cool £1000!

The Renaultsport Clio V6 may not be a supercar but it really is a super car.

The key to buying a Clio V6 and any of the other used cars we've highlighted is that you need to do your homework. Get it wrong and it will be a money pit but get it right and you'll be the owner of a second hand hero!