The new Audi A5 is similar to the A4 except Audi have specifically designed the exterior to stand out and be more appealing to buyers. Thatís not all, Audi have also fitted it with stiffer suspension which is pretty much like swapping your sensible shoes for a pair of trainers!
On the inside the A5 is identical to the A4 but thatís no bad thing because the design is really nice, clean and simple. It maybe doesnít feel as flashy as a Mercedes C Class coupe but the overall quality is actually better. Youíll find that all of the materials used throughout are lovely, robust and generally very well screwed together. Thereís also some great features such as the temperature setting for the climate control housed neatly within the dials themselves which is a really smart touch. As expected with Audi, the infotainment system is also very good. You get a 7 inch touch screen as standard which is very intuitive, fast and slick to use. In fact, itís so good that we would go as far to say that itís one of the best infotainment systems you can buy today. You can also get it with Apple Car Play and Android Auto. You can also opt for Audiís Virtual Cockpit. So, instead of normal traditional dials you get a full digital display for the driver which allows you to flick between different screens.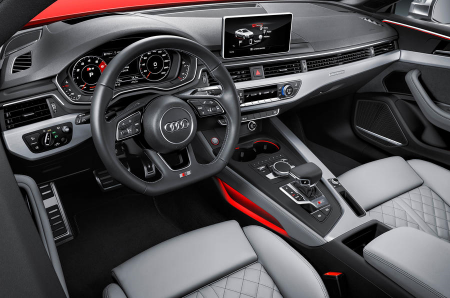 Practicality inside the cabin is generally good to so thereís numerous places dotted around the place to put your belongings. Thereís also large door bins to carry large water bottles on those longer journeys. On the subject of practicality we mustnít forget that this A5 is a Coupe so practicality is somewhat impaired. To get into the back Audi does help you out a little by providing you with a button on the seats that will automatically slide them forward and then return them to their normal position. Audi have made this incarnation of the A5 slightly taller and wider than its predecessor and as a result there is slightly more room in the back, though thereís still not a great deal. Unfortunately, you may find that your head is wedged against the roof a little and although the knee room is ok-ish taller people wonít like it too much in the back. On the whole we think that the BMW 4 Series is more comfortable for carrying rear passengers. Itís not all bad at the back as there are a few decent practical features geared towards those travelling in the rear. For example, youíll find decent sized cup and storage holders, coat hooks and an arm rest.




The A5 actually has the largest boot in its class and itís not much smaller than the A4ís. The opening is really big and the load lip isnít too bad either. Itís a really useful square shape with decent sized cubbies, tethering points, carry hooks and underneath thereís a space-saver spare wheel.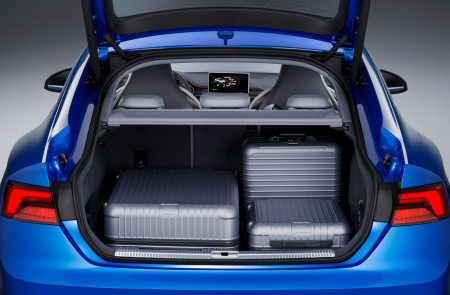 If weíre totally honest with ourselves coupes arenít really about practicality theyíre more about how they drive and make you feel. Like we said earlier in this piece, the Audi A5 is essentially an A4 in a different outfit with slightly stiffer suspension giving it a sportier feel. However, what this also does is make the car a little more uncomfortable over bumps. You can get this car with three different settings. Thereís normal suspension and sports suspension which is lower and stiffer. Finally thereís the optional adaptive dampers which have a comfort mode for cruising about and a sports mode which stiffens things up when you want to throw the car down a twisty road and stop the car leaning so much around corners. A slight downside is that the A5 is front wheel drive whereas something like the BMW 4 Series or the Mercedes C Class are normally rear wheel drive. To put this into some perspective the Volkswagen Polo is front wheel drive and a Formula One car is rear wheel drive. You can of course get the A5 with Audiís Quattro all-wheel drive system which gives you more grip and makes the car handle slightly better but overall itís just not as fun to drive as its German rivals.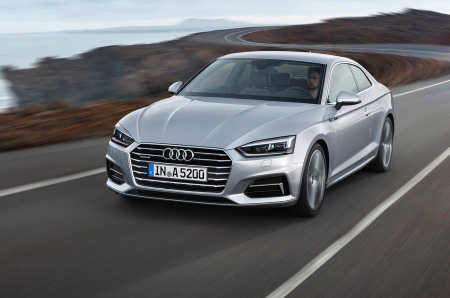 One thing we canít complain about is just how easy the A5 is to drive and to live with. All of the controls are nicely weighted and visibility is actually very good for a coupe. You can see quite a lot through the rear window which is unusual for this type of car. The A5 is also a very quiet car even when youíre travelling at speed. Then youíve got the engines which are amongst the best in the business. You canít really go wrong with whatever engine you opt for but we would recommend the 2.0 litre turbo petrol because it gives really good economy and is pretty quick too. Another good choice, if you want both performance and economy, is one of the V6 diesels. However, we think most buyers will go for the 2.0 litre diesel with 190 bhp which is both flexible, quiet and gives an overall very good account of itself. According to Audi this engine is supposed to do 64 miles to the gallon (mpg) which isnít bad at all for a car of this size. Itís also quite a nippy engine getting you from 0-62 in just 7.7 seconds thatís if you go for the excellent 7-speed S-Tronic automatic gearbox.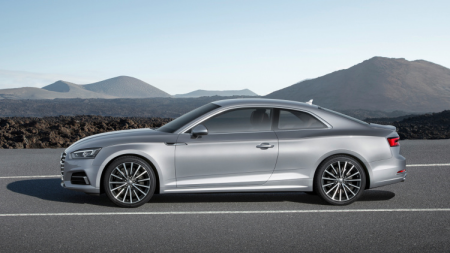 Unfortunately, there are some annoying things with the Audi A5 and here are a few of them:

1. Even spending north of £43k will not guarantee you a car with automatic folding mirrors.
2. The hardware for the infotainment system eats into the glovebox space which means that while you can fit the car manual in thereís not much room for anything else.
3. The new Audi A5 looks rather like the old Audi A5 so your neighbours might not be able to tell that youíve got a brand new car.
4. The entry level car doesnít get satellite navigation which is a little bit mean considering the price of this car.
5. Donít buy the optional variable weight steering as it just feels weirdly assisted.

Fortunately, thereís plenty to like about the A5 such as:

1. The new A5 is up to 60kg lighter than the old car for improved efficiency and better road handling.
2. When you close the door a little seatbelt butler hands you your belt.
3. According to Audi the A5 is the most aerodynamic car in its class.
4. The A5 standard safety features include auto-emergency breaking and a popup bonnet to help pedestrians.
5. The Audi Connect and Service package allows you to control some of the carís functions using your mobile phone such as being able to lock it and unlock it remotely.

So, whatís out overall verdict on the Audi A5? Should you avoid it, should you consider it, should you shortlist it or go and buy it? Well, we reckon you should shortlist it. Rival cars are somewhat more fun to drive but itís still a great car. There is a price to pay for the changes as the A5 costs on average around £2k more than the equivalent Audi A4 and starts from just under £31k. However, this shouldnít put you off trying to find a great deal with DesperateSeller.co.uk. If the new Audi A5 is a little out of your price range then why not take a look at some of our great used Audi A5 car deals on DesperateSeller.co.uk!