This is the new Honda Civic, itís now lower, wider, longer, designed to be a little more premium than before. This is all done to convince you not to buy a Volkswagen Golf but a Honda Civic instead.
You can tell Honda are trying to make the Civic feel more upmarket inside because gone is the old hap hazard arrangement and it has been replaced with something thatís far more ordered. Take the dials for instance, now in the old car they are on a split level dashboard but now they are right in front of the driver like you would find in any other normal hatchback. They are quite smart too, every car has a TFT display and it looks really quite good. And whilst the plastics arenít as squidgy as youíll find on a Volkswagen Golf everything does feel very well screwed together and itís a lot plusher than the old Civic. The infotainment screen is new too, itís a lot better than the old Civic but it does have a few problems which Iíll mention a little later. The Civic is well catered for storage, whilst the door bins donít pass the water bottle test, the central cubby has a couple of cup holders which can be arranged to fit a 1.5 litre bottle of water and the glove box is of a decent size too. Elsewhere there is a useful space ahead of the gear lever and behind the dash there is an area to charge your phone.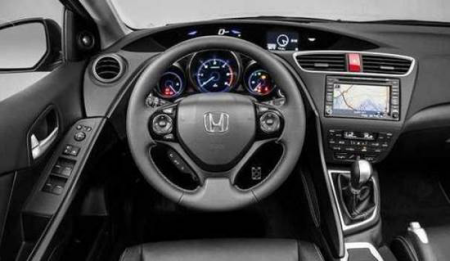 Meanwhile you can choose 7 versions which is around 2 too many. The EX car is a little too pricey but it gets adaptive dampeners, leather, rear cross traffic alert and you can optionally get wireless phone charging. But itís the safety kit thatís impressive. All cars get a vast array of the standard kit including traffic sign recognition, lane keep assist and adaptive cruise control that will take control of your car stopping and moving off. With the Civic now having larger dimensions it means thereís more space inside. In the back you realise the Civic isnít particularly well thought out. Whilst I canít complain about knee room, I mean there is plenty of it but if I sit upright my head actually hits the top of the roof. If you are over 6 foot you are really going to struggle in the back. Now you can fit 3 people at a push, if someone sits in the middle they will have enough head room. They wonít have much shoulder room but for shorter journeys itís fine. There is an arm rest in the back which is quite good with a couple of cup holders, and there are Isofix points in both outer seats but this new Civic doesnít have what we call magic seats. Now the old Civic did and itís quite a clever system. It meant that the seat bases could fold upwards allowing you to load large items like bikes and other large items but this Civic doesnít have it which is a bit of a shame really.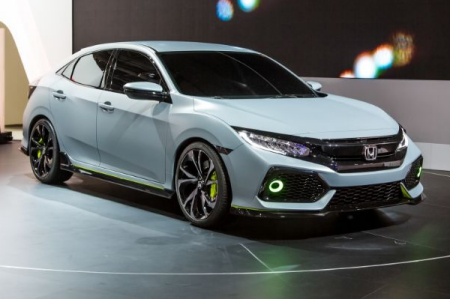 The Civic has an enormous boot, itís only beaten by the Skoda Octavia for outright volume and once youíve lifted the tailgate you see the opening is square and very wide. Honda has also developed a new type of parcel shelf, yes those clever Japanese. Instead of lumbering with a great big piece of cardboard there is just a roller blind which you lift up and it collapses. Itís easy to remove as well, just one click and out it pops. Quite what you do with it once itís removed Iím not sure but itís quite an interesting concept and quite novel you have to admit. Now if you go for the EX model and above you get some extra storage with a removable boot floor but thatís really where the good points stop because when you fold down the rear seats which is perfectly easy to do with a couple of clips on top of the seats, youíll see that there is an enormous hump in the floor which makes loading suitcases a little difficult. I am just knit picking a little bit mind you as boot space in this car is absolutely vast.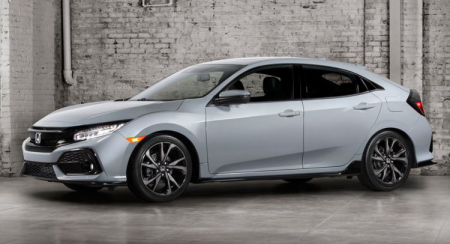 Thereís a small range of engines in the Civic thereís the 1 litre turbo petrol with 127bhp and the new 180bhp 1.5litre turbo petrol. Arriving later will be a 1.6litre diesel and a 2 litre turbo petrol with 160bhp but thatís reserved for the hot Type-R version. We drove the 1 litre turbo petrol and itís a really good fit in the Civic. Itís really energetic. It feels and sounds very similar to Fordís 3 cylinder eco boost but it doesnít feel as lively as the Ford engine. Thatís largely because the rev limiter is 5,500 rpm and thatís a bit of a shame you canít really rev this engine out. Itís also not as smooth as VWís 1 litre TSI because you do get quite a lot of vibrations coming through the pedals. Really Iím just being fussy because itís a good strong engine for the Civic. Itís also nicely matched to the 6 speed manual gear box and it is so precise itís one of the nicest gear boxes currently in production. Now you can choose the Civic with a CVT gearbox but in all honesty it behaves much like a normal CVT and thatís not very well. Along with the brilliant manual gear box the Civic is actually a fun car to drive. Honda has fitted it with torque vectoring which keeps it fixed on its cornering line and thereís a new multi- link independent rear suspension so it rides and goes round corners better. And whilst the steering is a little lifeless itís quick and accurate enough. The Civic also rides quite well and itís hushed and comfortable when cruising.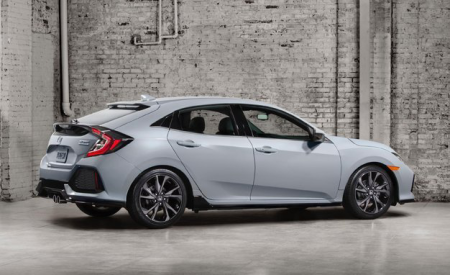 Bad points well letís start off with visibility. Now in the old Civic it was particularly dreadful but in this one itís a little bit better but itís still not great. You still have a bar that goes over the back of the windscreen and with the windscreen wiper mounted on it means that when you actually look in your rear view mirror thatís all you look at. Front visibility is fine until you look down in the bottom right hand corner. With the large A Pillar and the absolutely enormous door mirror it does create a bit of a blind spot which is particularly bad when youíre trying to negotiate out of a junction.

Secondly is the infotainment system, now like I said before itís a lot better than in the old Civic but itís still not that good. There are too many sub menus and there are far too many buttons to actually negotiate. Itís in stark contrast to the simplicity of the systems that you get in the VW Golf and the Vauxhall Astra. Itís just unnecessarily uncomplicated at times.

Lastly, itís the styling. While looks are always subjective, the Honda Civic is a difficult car to warm to what with its angles and fussy lines and bits of plastic that serve no use whatsoever. But there is no doubting the Civic is a big step on from the old car. While it may not have the inoffensive looks of a Golf or an Astra itís well made, different and good to drive. Discover our new range of new and used Honda Civic cars for sale on DesperateSeller.co.uk.