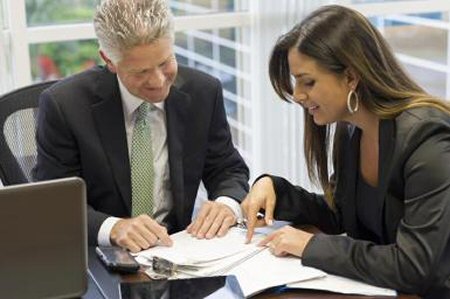 Negotiating with a car dealer
Finding the car you would like to buy is only part of the car buying process. You also need to know how to negotiate in order to get the best price from a car dealer.
The first thing you need to know is know exactly what car you want. Hopefully, you'll already have an idea so don't wonder into a car showroom not knowing anything about what it is you're after. What you should have done is your research so you know exactly what car will suit your needs. Once you know that then you're in a position to visit some car dealerships and browse around the forecourt to get a better look at a car.

Once you've decided on what car you want you must then do your preparation. Again, you need to do some research and find out the true value for the car. Take into consideration the model of car, the derivative, the trim level, mileage and age of the car you want as these will affect car price. You can get free car valuations using the DesperateSeller.co.uk car valuation tool. Alternatively you can perform a few searches and see what similar cars are being priced at. There's lots of information out there so spend a good hour doing your research.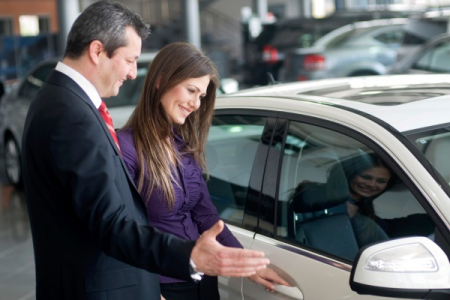 When you've done your research and you've seen a car you like that's being sold by a car dealer then it's time to pay them a visit. When you get there have a wonder around and try and build a rapport with the salesman. A lot of people feel that car salesmen are a bit intimidating, don't be intimidated and instead be friendly. Try not to come across too flashy knowing exactly what car you want and instead think about where the salesman is coming from. Keep in mind that when he or she invites you to sit down you are already having sales techniques used on you.

The next technique they'll use is to ask you if you would like a drink, it's free so you may as well take up their offer. Once the niceties are out of the way ask them if you can take the car for a test drive. Now, when you're taking the car for a test drive the salesman will be asking you all sorts of questions. Even when you're answering their questions try to concentrate as much as you can on the car itself. Concentrate on how it handles and how it sounds and try to remember any questions you may have so that you can ask them when you get back to the showroom.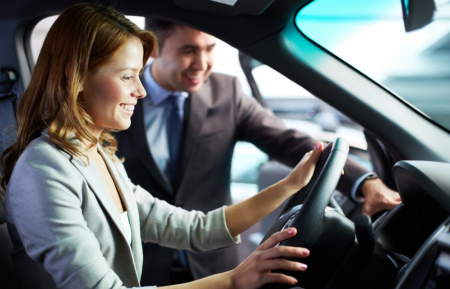 So, you're now back in the showroom. Usually you'll find that the salesman doesn't want to immediately talk about price. What they tend to ask first is whether you want to trade your old car in, are you going to want finance, are you going to get a bank loan or are you a cash purchaser. These options provide a number of options where the salesman can muddle up the price a little bit. The last thing you want is to be confused on price, what you do want is to keep the pricing as simple as possible.

A salesman would love to be able to say something like "…that'll be an extra £200 a month for thirty six months". In this instance you don't actually know what you're paying for the car, you don't know what your trade in value is at that point and you don't know if you can get a better deal if you were paying cash. So, find out exactly what they will give you for your old car, find out how much discount they are going to give you on the new car and keep getting them to reaffirm what the figures are.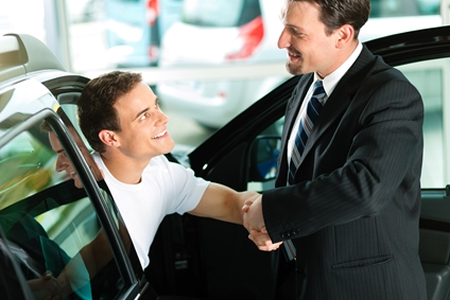 So, what's next? Well once you've decided on your ideal payment option and immediately after the salesman has given you the overall price then it's your time to "flinch". What we mean by "flinch" is that you sit back scratch your head and say something like "…oh, it's a bit more that I thought it would be". To be honest this should come naturally to you. If not, then this is where you acting skills really come into their own. You then go on to say something like "…is there anything you can do on the price?". Car salesmen are no fools and will be really well trained on this, they will half expect you to respond in this way or say similar things. It's because of this a well-oiled salesman will respond with something like "…well that's the price.". However, you really need to play hardball by responding with something like "…well I really do need some help on the price.". At this point the salesman may end up using another technique. Usually they'll say something like "…if you're really keen on buying this car then let me go and see the Sales manager and see what he can do". Although it's not unusual for a car dealership to have Sales managers for the purpose of this negotiation they can be fictitious and not really exist in the context of the negotiation. No matter what the salesman comes back with ask about what extras they may throw in such as car mats, stereo systems, accessories and even free servicing - push them as much as you can.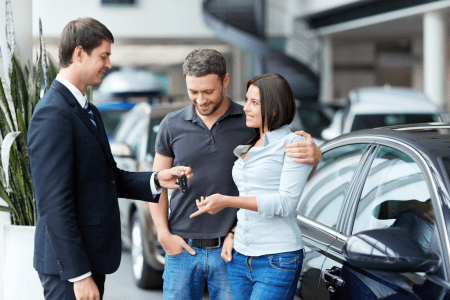 If the salesman refuses to knock the price down or provide you with any extras as part of the deal then walk away. However, before you do ask the salesman for his email address. When you get home drop the salesman an email but do so after the dealership is closed. When the salesman gets the email the next morning he should see, by the content of the email, how much you liked the car and that if he could reduce the car by let's say another £500 then they should give you a ring so you can arrange a deposit. What you're actually doing here is changing the sale process from them selling to you selling to them. What you're now saying to them is, if you come off £500 then you will come in a buy the car – the ball is in their court!

Eight times out of ten you'll receive a call from the salesman the very next day. They may say something like they're prepared to knock off £100 off the car. In this instance you need to be firm and adamant that you will only buy the car if the full £500 is knocked off. However, what you could do is suggest that some extras are thrown into the deal such as a couple of free services which will equate to the £500. What you're effectively doing is haggling but now you're in the driving seat. Continue to negotiate until you and the salesman are happy with a middle point.

When you are in any negotiation with a dealer make sure you have other options of other cars to buy. You could event let the salesman know this so they know that they are in competition with other dealers for your business. You need to know that as soon as you enter a car showroom you are part of a process and the salesman is armed with professional techniques and sales tactics all aimed at giving them the upper hand in the negotiation process. As long as you know that you're in a negotiation process, sales technique are being used on you, you know what car you want and finally what you want to pay then you'll be fine!