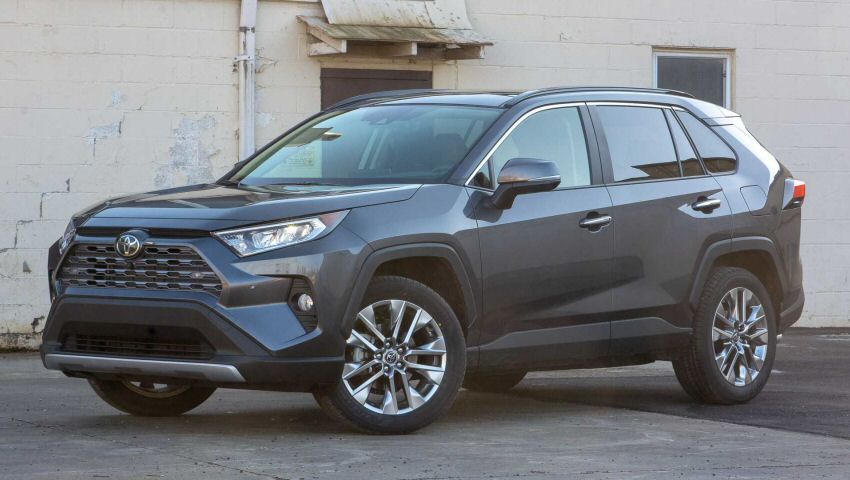 2019 Toyota Rav4 - Otherwise a perfectly good family car
While this 2019 Toyota Rav4 may look largely the same as any other family SUV in its price band, itís actually quite unique.
Why you ask? Well, while all of the Rav4ís rivals offer a diesel or petrol engine in their range the Rav4 is the only SUV under £30k to be offered solely with a self-charging petrol powertrain only. So, what exactly does this mean? Well, alongside a 2.5 petrol engine this car also has two electric motors that provide drive to the front and rear wheels. The power for these motors is provided by a battery pack which in turn is charged up by the engine. So thereís no need to mess around with any charging cables or waiting for the car to juice up.

The Rav4 is based on the Toyota-Lexus GA-K platform, which is also shared with the Lexus ES. Itís a large 5-seater SUV available in front-wheel drive and also all-wheel drive. Rivals to the Rav4 include the Hyundai Tucson, Skoda Karoq and Honda CRV with the latter owing to its hybrid capability.

If what youíre after is a child and animal friendly cabin then the Rav4 could well be the car for you. Ok, the materials used inside arenít the most premium looking but they do feel solid and built to survive a proper family car onslaught. You get all sorts of new equipment such as a 7-inch digital dashboard display which shows you things like speed, odometer and your radio station. On a whole the system is pretty good though it hasnít quite got the functionality of cars that have virtual cockpits in them such as the Volkswagen Group cars. One thing we did notice is that when thereís really a lot of sun shining into the cabin then it does seem to glare off against the screen so itís not quite as clear as youíd hope. You also get a brand new 8-inch touch screen infotainment system which houses your sat-nav, telephone, audio and media files. However, itís just not as good as every other system in this segment of cars. Itís also quite an ugly looking thing with its controls, functionality and graphics just not quite as crisp or slick as youíd get on other best-in-class models. As for the rest of the car, you do get some great equipment as standard. Even on the base-spec Rav4 you get rear parking sensors, a rear view camera, LED headlights and the Toyota Safety Sense 2 package. This package gets you autonomous braking, adaptive cruise control, lane keeping assist and even traffic sign recognition. This is a lot of standard kit in anyoneís book. The overall layout in the Rav4 is pretty good although there are some buttons that are hidden and out of sight like you find on many other Toyota models. It does have a nice driving position which is nice and high up with plenty of adjustment. Thereís also lots of storage space in the form of cubbies and door bins for all of your family bric-a-brac.

Take a sit in the back and youíre likely to be thrilled with the amount of space on offer. Even if you have taller occupants up front thereís more than enough room for longer journeys. Also, due to the fact that lateral space is 49mm over the previous generation Rav4 you can genuinely fit three people across the second row of seats. The central tunnel is also very shallow so the middle passenger can quite easily place their feet on top of it and not have to thread them next to the outer passengerís foot space. As for practicality itís as youíd expect from a family SUV. One thing to note is that you do get two USB ports which should mean that the kids wonít have to fight over charging points on family road trips!

The Rav4ís boot is rather larger than most of its rivals boasting an impressive 580 litre capacity with the rear seats in place and 1690 litres with them folded down. Unfortunately, it does miss a more flexible seat folding arrangement with a regular 60/40 split the only option.

Four things you need to know before buying a Toyota Rav4
Here are our 4 things we think you should know before buying a Rav4.

1. The Rav4 is available with four trim levels which are Icon, Design, Excel and the range-topping Dynamic.

2. Like all new Toyotas the Rav4 comes with a 5-year or 100,000 mile warranty.

3. At the type of typing this review the Rav4 has a BIK tax rate of 24% on most models.

4. You can get the Optional Premium Pack on Excel and Dynamic trims. The Optional Premium Pack features a panoramic sunroof, premium JBL sound system and a 360 degree camera.

A common complaint with family SUVs is that too many of them try to pretend to be a sports car on stilts. So, what youíre getting is a car thatís not necessarily comfortable or particularly sporty. However, this canít be said with the Rav4 as it has a lovely placid ride, most of the time, and doesnít feel like itís been tuned with one eye on the Nurburgring. Thankfully this car can still take a series of bends without the driver having to lean on its door handles or understeering wide. The steering, although pretty lifeless, weights up pretty nicely and the turning is crisp once youíve got over the initial nose-dip under braking. Also, if you have the all-wheel drive system it helps to spread the power out evenly and can send up to 80% of it to the rear wheels. Saying this, you wonít really want to be pushing the powertrain that hard in the first place as it doesnít respond well to anything more than a mere stoke of the accelerator pedal. Ok, you can drive around very cautiously but sometimes you just need it to be a little bit brisk though when you do that it makes so much of a racket. We have no problem with the amount of performance this car delivers as itís actually pretty perky. However, the way that it sounds and way that the revs flare makes you feel as though youíre on a knife-edge all of the time and can be quite off putting. As a result the refinement levels are inconsistent and thatís even before you even factor in the high wind noise levels at motorway speeds. Road driving aside, if you want to do a bit of mud-plugging off-roading, or just driving on a slightly bumpy road in the UK, then the four-wheel-drive version of the Rav4 should pretty much have you covered. This is mainly because this car has something they call Trail mode. Trail mode stops the power being wasted by shuffling the torque to whichever wheel has the most grip. So, if ever one wheel is off the ground youíll find this extremely handy. Itís also capable of adjusting the throttle and transmission mapping to give you the best grip possible in all conditions.

As a family SUV thereís plenty to like about the Toyota Rav4. Itís a car that has loads of space, lots of standard safety kit, comfortable on the move and should be utterly dependable. Itís just shame that the clunky infotainment system, and to a greater extent a poorly executed hybrid powertrain, lets the side down. If youíre looking to run one of these as a company car then the low tax will be appealing yet it still adds a somewhat divisive element to what is otherwise a perfectly good family car. If you feel that this is a car for you then take a look at the used Toyota Rav4 cars for sale we have on DesperateSeller.co.uk.