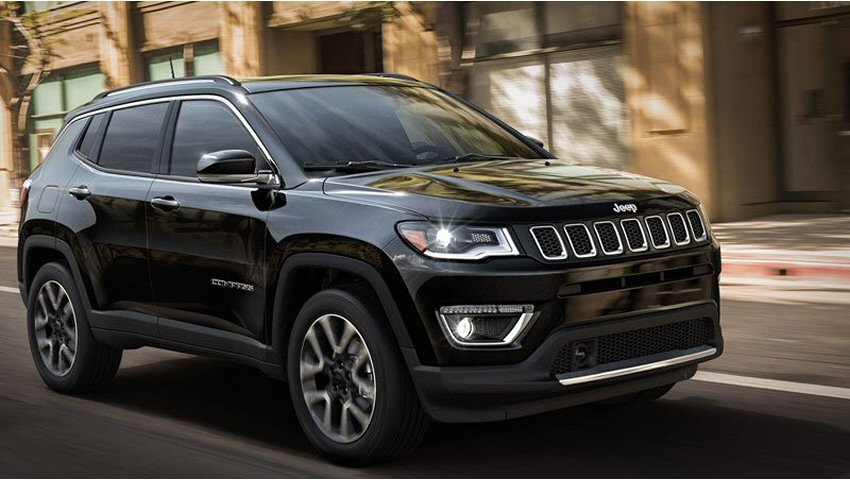 A brief look at the 2018 Jeep Compass
The Jeep brand is synonymous around the globe for building SUVs. However, itís suffered here in the UK which is partly down to a lack of models. Since itís become part of the Fiat Chrysler Group this has begun to change and the Compass is the latest one to arrive on our shores.
The Compass revives the name last used on the small SUV back in 2015. However, Jeep would rather you forgot about their previous effort as it was a pretty poor car. The new Compass fills a void in Jeepís range between the tiny Jeep Renegade and the mid-sized Jeep Cherokee. Itís lined up to take on cars like the Renault Kadjar, Toyota CHR and the Peugeot 3008.

We think Jeep have done a pretty good job with this car. When you look at the front youíll see the traditional Jeep grille although at closer inspection the vents are actually blocked off which is a shame. You certainly get a really nice tall ride height, chunky styling and all in all looks like a proper SUV. This is a car that doesnít pretend to be able to drive off road either. There are four-wheel drive versions available along with two-wheel drive versions that SUV buyers are traditionally after.

Once you sit inside the Compass you might feel that itís a little bit of a let-down and doesnít live up to the style that the exterior promises. To be honest it just looks a little old fashioned and weíre not too sure about the quality either. Ok, there are some soft-touch plastics in places but you just have to look at things such as the indicator stalks and youíll find that they just wobble and feel like they might just snap off at some point. The same can be said for the central console too. When it comes to all important storage then itís ok. There are plenty of places to put your things but the doorbins are slightly small while the glovebox is of average size. One plus point of this being an American car is that you get massive cup holders! The chunky steering wheel does feel nice while youíre driving and although most of the carís functions are controlled by a touchscreen infotainment system itís nice to see some physical controls underneath. Saying that it has to be said that the screen is in the wrong position and itís just too low for the driverís eyeline. So, youíll find yourself having to look down to it while youíre driving which isnít great in terms of safety. Overall, the whole cabin just feels really out of date and lacking in flair particularly if you compare it to something like the Peugeot 3008 which for very similar money just has so much more going for it.

At launch this car has three simple trim levels. The Sport trim kicks things off with 16 inch alloys, a 5 inch touchscreen with Dab and Bluetooth, keyless entry, cruise control and finally lane departure warning. Longitude is the next trim and throws in a larger infotainment screen with sat nav, duel zone climate control, roof rails and 17 inch alloys. The Limited trim adds a heated steering wheel, leather seats, automatic wipers, a parking camera, front and rear parking sensors, 18 inch alloys and has the ability to park itself. A Trailhawk version will arrive later with some serious off-road handling, tow hooks and a Rock mode for the low ratio gearbox.

We have a few niggles about the lack of thought thatís gone into some of the things on this car. For example, whenever you try and sit in the back youíll find that youíll catch your leg on the bottom of the seat and you clothes will get all dirty. Thereís also quite a high step to get over to get into the back and when you add this to the fact that the doors donít open that wide then it could be a bit of a pain getting children in and out of the back. Saying all this, once you are in the back then things are pretty good space-wise. Itís got really nice wide seating with a couple of IsoFix points, good headroom and plenty of leg room that you certainly canít complain about.

Just like the space in the back seats, the boot is average for the class. Thereís a small loading lip but generally itís usefully square and large enough for this type of car. Thereís also a number of hooks, cubby holes and a power socket but whatís not so great is that the rear seats donít fold completely flat.

Under the bonnet youíll get a 1.4 litre turbo petrol with 139 break horse power (bhp), a six speed manual gearbox and two-wheel drive or a 167 bhp version with a 9-speed automatic and four-wheel drive. Thereís a 118 bhp 1.6 litre diesel with manual transmission and two-wheel drive along with two different 2.0 litre diesels. Both 2.0 litre cars have four-wheel drive and cars driven by all four wheels have selectable drive modes. The Trailhawk trim also gets a Rock mode.

The car weíre looking at for the purposes of this article is the 2.0 litre which delivers a strong dose of power while returning approximated 50 miles to the gallon (mpg). Unfortunately, the manual gearbox isnít the smoothest so the 9-speed automatic is definitely the one to go for. Added to this the 2.0 litre is actually quite noisy and a little bit gruff. The 1.6 litre is certainly quieter and if you go for the 1.4 litre petrol then youíll find even more refinement. The 1.6 litre is the best all-round choice for fuel economy thanks to its smaller size and only comes with two-wheel drive. Jeep claims this engine will get you around 62 mpg and 117 grams per kilometre (g/km) of Co2. The petrol on the other hand returns 41 mpg at a cost of 160 g/km.

When you drive this car there really isnít much to write home about but the same can probably be said of the majority of SUVs in this class. There are just so few of these types of car that actually give you real driving enjoyment. One thing we will say about the Jeep Compass is that it copes pretty well with very little body-roll. The steering is a little bit meatier than most SUVs and is no doubt helped by the really chunky steering wheel youíll find in the Compass. If driving fun is really at the top of your list of priorities when buying an SUV then you should really be looking at something like the SEAT Ateca or Peugeot 3008 both of which are a far better bet than the Compass. Jeep says itís put a special damping system on the Compass that smooths out the pot holes in the road, unfortunately our experience is that it doesnít. What you also get is an awful lot of road noise coming back into the cabin on anything other than really flat roads. The rear visibility isnít that good thanks to the fat pillars at the back and rather slim rear window. While itís great that there are some physical buttons underneath the infotainment system theyíre just too low down so you have to take your eyes off the road to operate them.

Thereís no doubt that the Jeep Compass is in a different league when it comes to comparing it against the old car. If you go for the four-wheel version and attempt to do some off-roading then the Compass is probably one of, if not the best in class, at tackling rugged terrain and giving you the confidence to do so. However, the job that most SUV car buyers need their cars to do just means that this car just doesnít have enough going for it. If youĎre interested in buying used Jeep Compass cars for sale then weíve got plenty for you to choose from on DesperateSeller.co.uk.