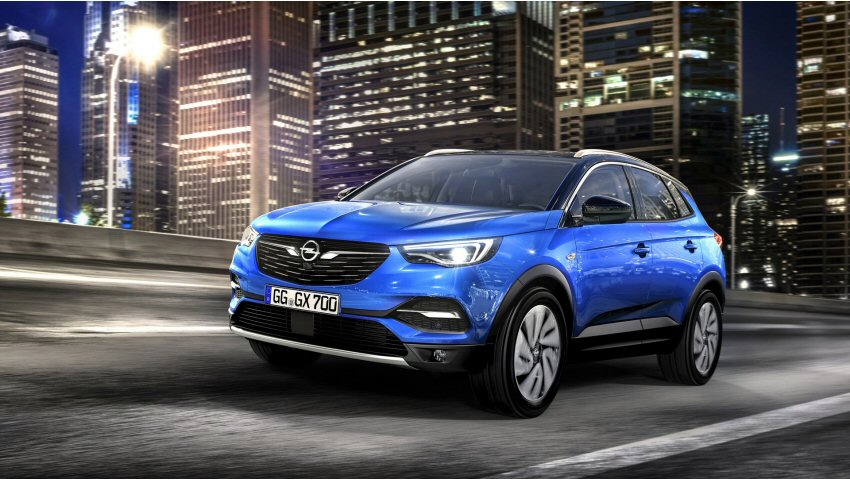 The Vauxhall Grandland X
The car in our picture is the Grandland X and sits at the top of Vauxhallís SUV family tree just above the Crossland X and the Mokka X.
When it comes to mid-sized SUVs the market is saturated and car makers have to offer something special in order to stand out. Vauxhall is also competing for buyers from cars such as Mazdaís CX5 the Hyundai Tucson and the Peugeot 3008. So, does the Grandland X have what it takes?

At first glance, despite sharing much of its mechanics with the Peugeot 3008, it looks rather generic. It probably wouldnít warrant a second glance if one passed you by. The rest of the package is rather run-of-the mill too. You do get the high driving position the good view and the practicality that SUV buyers like but itís all delivered in a rather bland package. Sadly, it doesnít get any more exciting when you sit inside. Ok, itís well built and very functional but everything from the quality of the graphics on the infotainment screen, the buttons and the dials, the whole layout and look and feel just feels a little too old fashioned and rather uninspiring. This car is fully connected as youíd expect these days so you can expect Android Auto or Apple Car Play, USB connectivity and WiFi. The WiFi is all part of Vauxhallís OnStar service. Thereís a call centre staffed by advisors who can do things for you such as book you in to a hotel or sort out your parking. Probably its best feature is its ability to alert the emergency services if it senses that the carís airbags have been deployed. Another safety feature that we really like is the way that the current speed limits are displayed on a digital dial which is obtained by scanning the road signs. It then asks you if youíd like to set the car to that particular limit. Itís a really smart feature and is available on all the models across the range.

Youíll find it light and airy sitting in the back. Thereís excellent leg and head room thatís unless youíre the person sitting in the middle. Sit in the middle and youíll find that the rather protruding central console means that you donít get much leg room. However, there isnít a transmission tunnel under your feet so the floor is nice and flat. The reality is that the central seat is much better suited to children rather than adults. When it comes to children there are a couple is Isofix points although curiously for a family SUV the rear doors just donít open wide enough so getting your children in and out might be a bit of a palaver. When it comes to practicality unfortunately, itís not that great. The glovebox is a strange size and not really that useable as are the doorbins. The cup holders are also a funny shape and simply not big enough.

Taking a look at the boot itís pretty much as youíd expect for a family SUV. So itís a good size and larger than the boot of the Nissan Qashqai and the Renault Kadjar. Although the Peugeot 3008 is a lot more versatile you can add a versatility pack which adds split folding rear seats and a split level boot floor. Dropping the rear seats gives you a completely flat load area so you can easily push your luggage towards the back.

Vauxhall has a reputation for rather confusing trim levels. Although the Grandland X is offered with five trims, which is fewer than those offered on the Corsa or Astra, a slightly strange quirk exists in the range. SE trim includes a seven inch infotainment screen without sat nav but for about £100 less you can get the Tech Line nav trim which brings a better infotainment system, sat nav 18 inch alloys instead of 17 inch alloys, all-round parking sensors. Thereís also some extra safety kit including lane keeping assistance and autonomous emergency braking.

The influence of the Peugeot 3008 is really seen in the engine range with the addition of Peugeotís 1.2 litre 3 cylinder petrol engine with 128 break horse power (bhp). This is a smooth punchy little engine which delivers far more than its modest output would suggest. There are two diesels available one being a 1.6 litre turbo diesel which provides 118 bhp and a 2.0 litre diesel which is only available in the top of the range Ultimate trim. Whilst there a manual and an automatic gearbox on offer, the 2.0 litre diesel is only offered with an automatic gearbox.

It might not be a big surprise to learn that there is no option for 4-wheel-drive on the Grandland X. Instead Vauxhall offer a system called Intelligrip which is basically a traction control system for the front wheels with different driving modes for snow, sand and mud. Youíre not going to want to venture over any rough stuff in this car but letís face it very few SUVs drivers have any desire to do this anyway. The system will cope fine with the muddy fields and snowy roads that itís more likely to encounter. Not having the weight of a four-wheel-drive system also has a positive impact on fuel economy. The 1.6 litre diesel engine promises impressive economy of around 70 miles to the gallon (mpg) although realistically youíre probably going to get closer to 47 mpg. One of the plus points is that the engine is a good performer. Itís reasonably quiet and is happy right throughout the range with enough power right down in the lower gears. However, what lets it down is the gearbox which is paired with a 6-speed manual transmission. Like so much else about this car it does the job but isnít that great. Itís not particularly smooth and has quite a notchy awkward shift. You can say the same with the steering where weíd just describe it as being fine. Itís light and responsive which does make it easy to drive around town but it isnít particularly direct and when you add into the equation the fact that itís got a really fidgety ride you certainly wouldnít call this a fun or engaging car to drive.

The Grandland X does fair well when it comes to safety with a full 5 star rating from EuroNCAP tough testing procedures. This is thanks to safety equipment like lane departure warning and rear parking sensors on all cars. Thereís also autonomous emergency braking, blind spot monitors and lane assist which actively steers you back into lane if you wander near a white line.

Overall, the Grandland X is a fine car. However, you have to remember that this is a very late arrival to a crowded marketplace and we just donít think it feels special enough. Itís also worth remembering that itís only slightly cheaper than its more desirable stablemate the Peugeot 3008. Interested? We have thousands of used Vauxhall Grandland X cars for sale on DesperateSeller.co.uk.