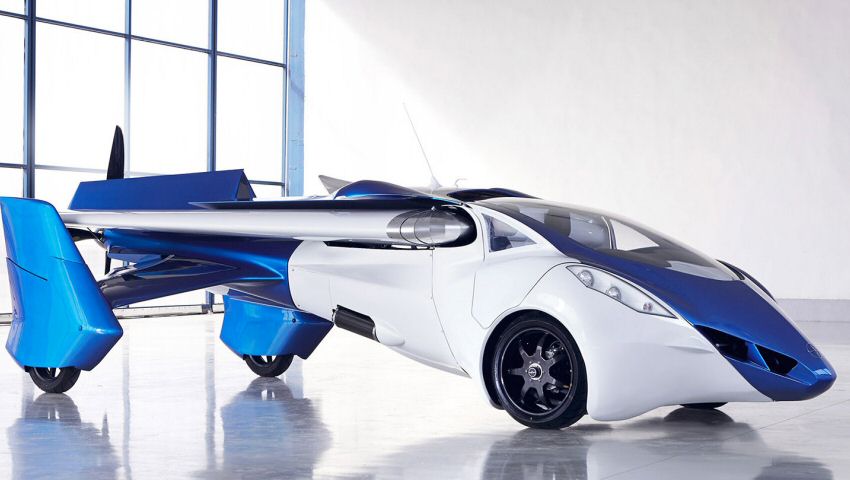 Elon Musk's surprising opinion on flying cars
Will flying cars become a reality any time soon? It's a good question. And it's a question that has an easy answer. At least, it has if Elon Musk has anything to do with it. Because he thinks they're a crazy idea. And let's face it, if anyone knows crazy, it's Elon Musk.
Of course, he has his reasons for thinking this, two of which are inconvenience and danger. Why inconvenience? It's because a flying car needs to produce a large downward thrust, resulting in a lot of wind and noise. This, says Elon Musk, could make life quite unpleasant for people on the ground. It's a fair point. And why danger? Well, imagine a town or city airscape that's thronging with thousands of flying cars. Unless very carefully managed, this could result in airborne mayhem. The risk of a mid-air pie and mash – and, therefore, falling debris - would be considerable.

Actually, to be fair to Mr Musk, he's not alone in this analysis. Many others see, and accept, his point. In fact, some influential executives in the auto industry not only endorse his argument, but strengthen it, by pointing to other reasons why flying cars will remain the stuff of science fiction for many years to come. Take city infrastructure, for example. Most cities find it hard enough to build sufficient living space for their residents, let alone find room for the take-off and landing platforms that flying cars would need. And then of course there's the issue of technology. Take batteries as just one example. This is probably the biggest technological barrier still to be overcome before flying cars make it onto the mass market. Most experts say that battery technology still falls considerably short of the energy storage capacities needed to fly a car any meaningful distance.

Or take the issue of driving - though 'piloting' would be a better word. The abilities and acquired skills required to drive/pilot a flying car are considerably more sophisticated than those currently required for surface-based vehicles. But the alternative - autonomous flying vehicles – doesn't seem a viable solution, either. After all, if there's one thing we've learned in the past few years about autonomous technology, it's that it's hard to get right. Very hard. Let's face it, we're still some distance from cracking it for today's land-based cars, let alone tomorrow's airborne ones.

All this seems to point at an obvious conclusion: you can forget flying cars as a mass consumer product for the foreseeable future. But wait! Not everybody agrees with this conclusion. In fact, there's a considerable body of well-informed opinion which thinks otherwise. And one member of that body is Eric Allison, Uber's head of aviation programs. "We think the technology is here to do it now," he says. "It doesn't need a big quantum leap in anything. It just needs clear system level thinking to put it together."

Now, given that Eric Allison is from Uber, and the company's agenda is familiar to all of us, you're probably thinking, well, he would say that wouldn't he? Actually, though, there are quite a few facts that support his argument. Advances in materials science, for example, mean that composites such as carbon fibre allow the construction of lighter, stronger aircraft than ever before. Combined with improvements in lithium battery technology, these new materials hold real promise for flying cars in the medium term. Computer algorithms, too, are becoming much more sophisticated and could conceivably lead to vehicles that will fly themselves before long.

So where does all this leave us? Obviously the jury is still out on the short term future of flying cars. But it's worth remembering that, for some years after Alexander Graham Bell first presented his idea for the telephone, it was widely scorned, being variously described as "hardly more than a toy" and "a dream that will never happen". Perhaps you won't be swapping your Honda Civic, or whatever, for the Ehang 184 any time soon, but you may not have to wait decades, either. In the meantime, if you feel like changing your current car, why not pop over to Desperateseller.co.uk and see what great used car deals we have on offer!