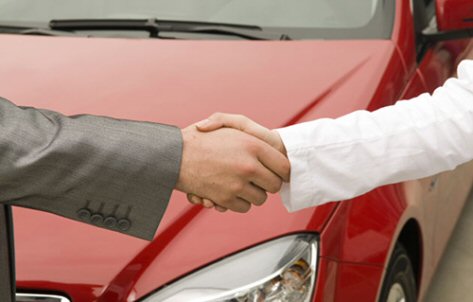 The best options to sell my car
You've got four options when it comes to selling your car. You can sell to a dealer, sell it privately, sell at auction and finally sell online to a car buying company. We'll tell you which option will get you the best deal.
Let's start with selling your car to a dealer. First thing's first, to make sure you get the best possible price for your car from a dealer you need to give it a thorough clean before you go and make sure you've got all the relevant bills and paperwork with you. Selling your car to a dealer is probably the easiest option but it won't necessarily get you the best price. Dealers are expert negotiators so it's important that you get a professional valuation using DesperateSeller.co.uk's free used car valuation tool before you head off. You can then use this valuation as a bargaining tool.

If you decide to part-exchange your car then remember it's the difference between what you get for your old car and what you pay for your new one that matters. It's no good squeezing the dealer for a good trade-in price if that means you don't get a discount on your new car.

If you're prepared to do the legwork then you're usually get the best price by selling your car privately. The easiest way to do this is by advertising on websites such as DesperateSeller.co.uk, Motors.co.uk and Autotrader.co.uk. You'll need to take some photos of your car but before you do make sure your car is looking as clean and shiny as possible. Make sure you include all the important information including trim, engine size, mileage, MOT expiry date and details of the service history. Don't put "ONO" or "Nearest offer" after the price, buyers will probably try to haggle anyway so there's no point in encouraging them. When potential buyers come to see your car make sure they provide a valid driver's license and insurance documents before you let them drive it. Most important of all, DON'T let them take your car for a test drive on their own! A cash payment is best for cheaper cars. If a buyer pays by bank transfer then make sure the funds are cleared before you let them take your car.

Selling a car at auction is easy, you simply pay a fee set your reserve price, below which the car can't be sold and hopefully watch the bids roll in. However, there is no guarantee that your car will actually sell and the price you get could be hundreds or thousands of pounds less than a private sale. You can always arrange your own auction on websites such as eBay. You can set a reserve and the winning bidder is legally obliged to buy your car. If you do go the eBay route then try to add as many high quality pictures and as much detail to your advert as possible to encourage lots of potential bidders.

An increasing number of people now sell their "cars for cash" online to car buying companies such as WeWantAnyCar. The process is simple, just enter the details of your car into their website and you should receive a valuation within minutes. If you're happy with their offer then you'll need to take your car to a depot where an inspector will take it for a brief test drive and confirm if that online valuation still stands. However, they may try to knock down the price at the point of sale by picking up on any tiny imperfection they can find. If you think the price you were originally quoted was fair then stand firm or be prepared to walk away.

In conclusion, selling your car to a dealer is the best option for convenience or if you want to part exchange. However, selling your car privately is definitely the best option for your wallet.