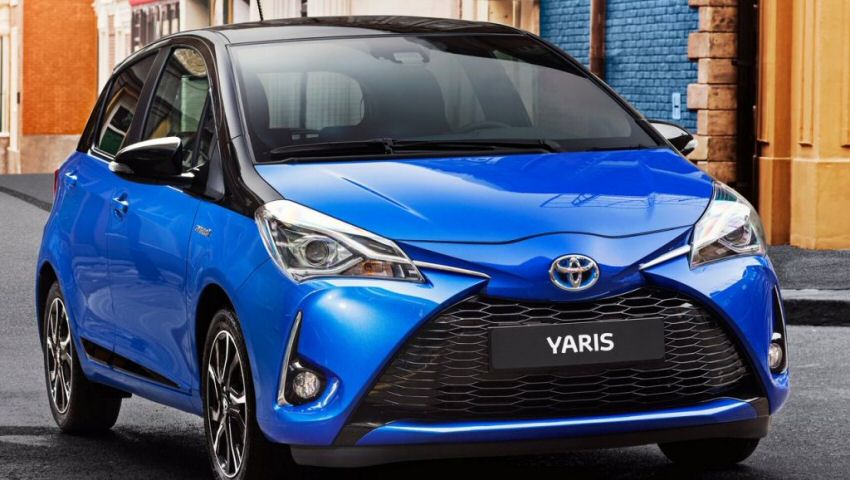 Toyota Yaris Hybrid reviewed
It's not a particularly huge secret that the supermini segment is one of the most competitive segments in the UK. If you look at the market closely then you'll find that there's an offering for pretty much everyone. There are cars that are driver focused, cars that are comfortable and cars that are cheap to buy and cheap to run. The Toyota Yaris, in particular the Hybrid version pictured, claims to offer all of the practicalities of a normal supermini but will average over 80 miles to the gallon (mpg). The question we ask ourselves is whether a car that's so eco-friendly can really cut it amongst the big boys.
When you first sit inside the Yaris you'll find that there's a bit of a scattergun approach to the design. For example, there are plenty of storage bins and cubby holes but they're really oddly shaped in and in some really weird positions. Down by the handbrake you get some driving modes though beside your right knee you then get some driver safety aid buttons so it all just seems a little bit cluttered and not very well thought through. There's a real mix of cabin materials used throughout where some of them are nice and soft while others are pretty harsh and scratchy to touch. Not only are some of the switches and buttons pretty outdated but the same can be said for the satellite navigation system too. Not only is it slow to respond but it's nowhere near as good in the systems found in some of its rivals. There's plenty of space in the front for a couple of adults and while the space in the back is a little on the cramp side it's no worse than some of the competition out there on the market. The boot has a good size and shape too and can be extended by folding down the split-fold rear seats. Unfortunately, it doesn't really do anything else particularly clever which is a shame.

The supermini market is flooded with all manner of offerings and cars like the Ford Fiesta and the Volkswagen Polo are more than capable on the road. The Toyota Yaris on the other hand is a totally different kettle of fish. There's no doubting that Toyota has built this car with economy at the forefront rather than trying to offer drivers an inspiring drive. The most environmentally friendly version in the range is the Hybrid which uses a 1.5 litre petrol engine combined with an electric motor. What this all means is that if you drive it carefully enough you'll average over 80 mpg and emit emissions of just 89 grams per kilometre (g/km) of Co2. In fact this Yaris is one of the cheapest superminis to run and can only be matched by the Renault Zoe which by the way is fully electric. Elsewhere in the range, there's a 1.0 litre petrol which is a little bit lacklustre and a 1.5 litre petrol which is cheaper to buy than the hybrid. However, if you do have one eye on economy then the hybrid is definitely the model to go for.

As mentioned earlier the Hybrid model is a car that you'll have to drive carefully to get the most out of and driving it carefully is something that you'll want to do due to the automatic gearbox that comes with it. If you put your foot down in this car then you'll quickly discover that it feels rather whiny and because there's not a lot of power you'll want to put your foot right down to get anywhere quickly – which will cause the engine to rev out.

With regards to the drive, the steering isn't too bad but isn't as good as other cars in the class such as the Kia Rio or the SEAT Ibiza. However, it's more than adequate enough for nipping around busy towns and city centres. If you look around you'll find that the all-round visibility is excellent thanks to the large windows. You also get a small window down by the A-pillar which means that you won't have any problems pulling out of junctions.


While most superminis are geared towards a wide audience the Toyota Yaris Hybrid has got a very clear customer base. Ok, this car may not be as fun to drive as other cars and the build quality may not be as good as its German rivals but the low running costs are this car's biggest draw and for many UK car buyers this will be enough. If you'd like to take a look at some used Toyota Yaris cars for sale then head to DesperateSeller.co.uk where we have one of the widest selections available.