This is the 2018 Mini Cooper S which we would describe as a sort of warmed-up made over version of the little British built car.
It's the rear Union Jack inspired lights that are what everyone's talking about on this new Mini and you're going to have to make up your own mind whether they're fun or just a little bit naff. To be honest, we're not really sure whether they're a bit Austin Powers or a bit too Brexit. If we look at other changes we can see that there are some new headlights which you can specify with a matrix LED system, a gloss black styling pack and 3D printings so that you can have your name (or whatever you like) printed all over the car.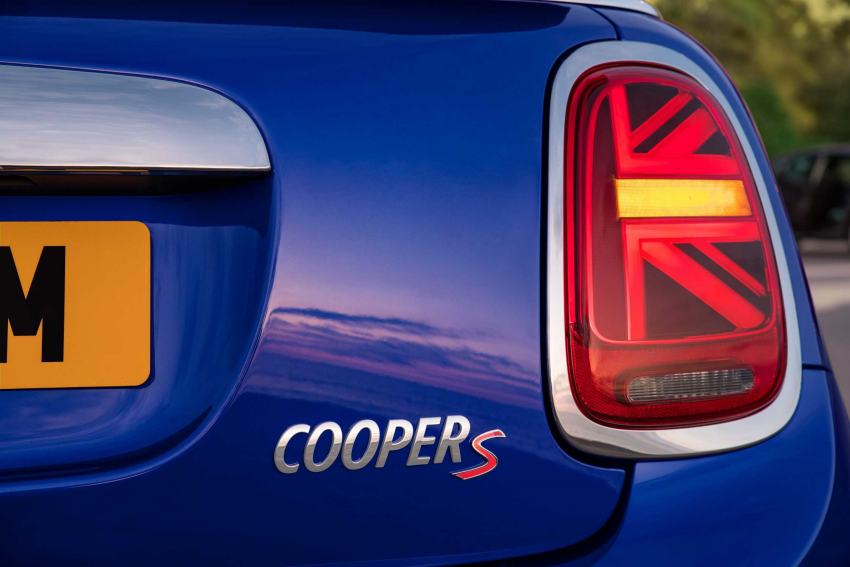 Step into the cabin and you'll find that the changes are pretty small in here as well. As you'd expect there are new trims and fabrics and even a new steering wheel. All models get a new 6.5 inch touch-screen which is taken straight from the Mini Countryman. Further up the range and you can get a sat-nav system that's got online connectivity. There's also a wireless phone charging pad and more USB sockets than you can shake a stick at. There's also a brand new feature and it's called, rather cringingly, Find My Mate. So, if you've got a little tag attached to a bag or some keys then it means that your car can find it for you. It's like a tracking tool although quite why you'd want your car to let you know where you've left your Adidas holdall is somewhat beyond us.

Both the outside and the inside may look a little bit different but underneath it's a slightly different story. This is pretty much where the changes stop because BMW have decided to make no changes whatsoever to the mechanicals or the chassis. Normally this would be a bad thing because if you buy a new version of a car then you really want it to be a little bit different. However, in the case of the Mini this is a very good thing because this car has always been one of the most fun-inspired and most entertaining small hatchbacks you can buy. We don't want to trot out the official BMW marketing drivel about the Mini being a go-cart on the road but there really is a connection between this car and the road. It's this connection that you just don't seem to get in many other small hatchbacks. You can really feel it through the steering and the seats and together it gives you a sort of fizzy sense of fun. This sensation is enhanced with where you sit because you have a fantastic driving position. You have the steering wheel close up to your chest and you can sit really low down while peering out through these slitty windows all around you. You feel what can only be described as cocooned and safe. Overall, it just puts a massive smile on your face all of the time.

The engine line-up remains largely the same too apart from the entry level Mini One which now gets a D-tuned version of the Cooper's 1.5 litre three-cylinder engine. So, there's a couple of sparkling little three-pots for the One and Cooper, two diesels and 2.0 litre petrols for the Cooper S and the John Cooper Works.

The car we're reviewing in this article is the Cooper S with its 189 break horse power (bhp) 2.0 litre, turbo charged, four-cylinder petrol engine. We really like this as it sits nicely between the Cooper and the feisty John Cooper Works models. There a really nice balance between comfort and also a lot of fun as well. The engine really pulls well throughout the rev-range and produces a lovely engine note too. It also matches up to a sweet little 6-speed manual gearbox. If you switch this car into Sport mode then you get a rev-matching function for the manual gearbox, the steering weight goes up and the damping firms up as well. However, we have to say that one of the best things is that the exhaust starts to pop away which just adds to the whole spice and drama of a boring normal commute. Finally, there a new 7-speed dual-clutch automatic gearbox option that gives rapid fire changes when you're on it or seamless shifts when you're cruising.

So, in conclusion not much has changed to the Mini. However, if we're being honest then there wasn't a huge amount that needed changing anyway. If we had to choose a car in the line-up then we'd probably opt for the Cooper just because it still manages to be almost as fun as the Cooper S but it's also cheaper to run and buy. Ultimately, whatever Mini you buy you're arguably buying one of the best small cars on sale. If you like the idea of the Mini then check out the used Mini cars for sale we have on DesperateSeller.co.uk.