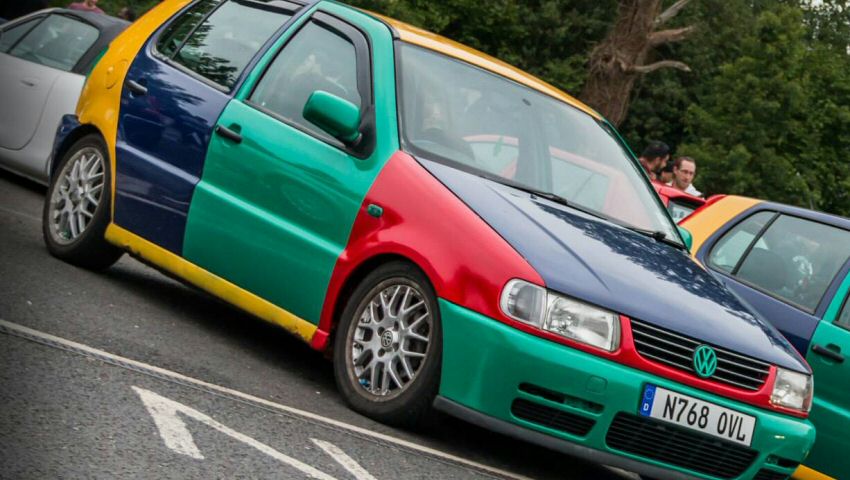 The truth about colour
Remember the VW Polo 'Harlequin', from the mid 90s? No? Well, you're not missing much. At least, not colour-wise anyway, as it was voted (in 2016, by DesperateSeller.co.uk users) as having one of worst colours in automotive history. Not that the Harlequin was, technically, a single colour. Actually, it was a patchwork of colours (red, blue green, yellow) which was so jarring on the eye, it's a wonder that anyone – at all – bought it. But they did. The world can be a strange place.
Presumably, the answer to this conundrum is that some people simply liked the 'colour'. It could happen - after all, some people like avocado bathroom suites. Inexplicable, but true. And simply liking a colour is as good a reason as any to choose it for your car. In fact, it's probably the main reason why someone selects a particular colour.

But it's not the only reason. Some people, for example, choose a colour because they think it's safer, based on the idea that brighter colours stand out more. Now this, you might think, is a pretty sensible reason for choosing a colour. And, here at Desperateseller.co.uk, we'd agree – almost anything that improves safety is a good idea. But, while some people may think they're choosing the safest colour, they're actually not. Why? Because a survey by the AA found that 15% of people thought yellow was the safest colour, with white second at 13% and red, a close third, at 12%. But the facts, taken from insurance claim statistics, say otherwise. These show that, in reality, white is the safest colour, with yellow second, while red is the third most dangerous colour (7% more dangerous than white). The riskiest colour to buy, in terms of accident probability, is black.

Away from aesthetic or safety considerations, some people choose a colour for purely practical reasons. What colour, they ask themselves, is the easiest to take care of? Answer – it's a tricky one. Black, it's true, looks terrific when it's freshly cleaned – but it also shows every small paint flaw, and is the devil itself to keep spotless. White, on the other hand, hides (small) dents and scratches well, but shows every splash of grime and dirt. The best choice, therefore, if you want an easy life, is a colour like beige, the colour of dust. And that's the dilemma facing those who select colour for practical purposes – if you want your car to be easy to keep clean, you've got choose a bland colour. Easy to clean means looking boring.

So what other reasons are there for choosing a car colour? Does, for instance, having a brightly-coloured car increase your chances of being pulled over? Well, while urban legend might claim that red is the colour most noticed by the police, the actual figures over the past 10 years say different. These show red to be second, not first, in the list of colours most stopped by the police. The colour most pulled over is actually white, with grey and silver coming in third and fourth place, respectively. The figures take account of the fact that there are more white cars than red.

Or how about superstition? Green cars are unlucky, right? It's one of the more established myths of the motoring world. But statistics from the AA show that, if you define 'unlucky' as 'likely to break down', it's not green but GREY that claims the top spot in the misfortune stakes. Green cars, though, are slightly unlucky, insofar as they're second most likely to break down. If you want the most 'reliable colour', go for a blue car – you'll be 15% less likely to need the assistance of the AA than someone driving a grey car.

So, in conclusion, what's the moral of all this? We're not sure. Perhaps it's that, whatever basis you select colour on, make sure you've got the facts right. Or maybe it's that you should ignore all the myths and urban legends, and simply go for what you like. Fortunately, the VW Polo Harlequin is no longer available!