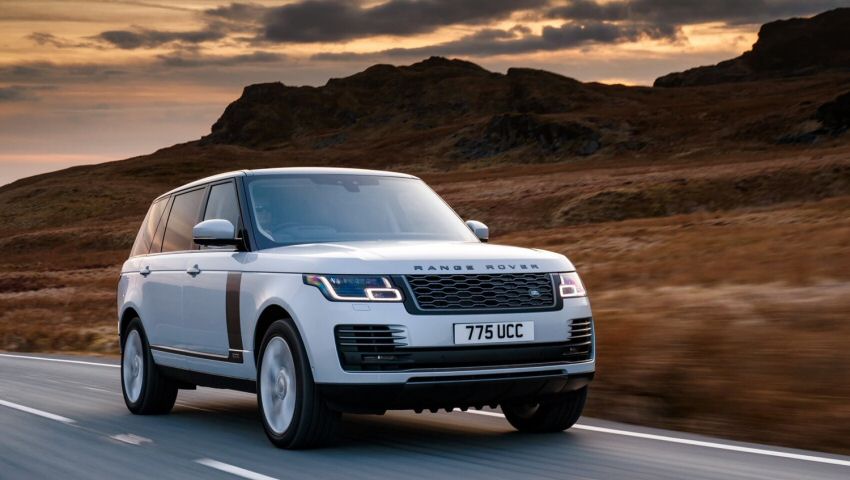 2019 Range Rover
It would be almost impossible not to recognise the car in our photo. This is because the Range Rover is one of the true icons in the car world. In fact it practically invented the lifestyle 4x4. However, a lot has changed since it first arrived in 1970. Back then it was simply a go-anywhere vehicle with fashionable looks and comfortable seating. Five decades on and itís still very much a go-anywhere vehicle but itís now one thatís classed as a luxury car.
So whatís changed from the previous model? Well, happily not too much. The famous Range Rover silhouette remains largely unchanged. You still get that high waistline and tapered rear end. Land Rover has given this car your typical nip-n-tuck facelift. So, you get a new grille, which is taken from the Velar, headlights with a matrix anti-dazzle function and a new day running lights design. Around at the rear you get a new taillight configuration. Although these lights arguably make this car look a little bit cheap it does make it look a lot more modern. You also get new colours like the classic Byron blue along with new alloys.

You canít but help love the feeling when you sit inside a Range Rover as thereís just nothing quite like it. The combination of wood and leather in here is absolutely sensational. So, whatís new about the inside of the 2019 Range Rover? Well, firstly there are new seats which are a lot more comfortable and wider than they used to be. However, because the seats are wider itĎs meant that the door covers have had to be changed to make them a lot thinner than they were before. There are seat controls on the doors and new touch pads on the steering wheel too. These pads are dark when the car is not on and beautifully light up when the ignition is on. When you switch the ignition on the upper touchscreen tilts forward and thereís a new lower touchscreen too. Itís all very much the same as youíd find on the Range Rover Velar and is aptly named the InControl Touch Pro Duo. Just like the Velar and many other Jaguar and Land Rovers these days it all works really well. Just below this screen the old Range Roverís physical buttons have been replaced by another screen and which is fairly intuitive. Elsewhere the storage is still pretty good so youíll find a decent number of cup holders, good sized door bins, two glove boxes and even a fridge under the arm-rest! Itís really hard to fault the interior but if we had to then we would draw your attention back to the screens. Now whilst they are absolutely fine in a Range Rover Sport or Range Rover Velar in the Range Rover it tends to be too low down. What this means it that you have to take your eyes off the road to actually use it. Another thing we donít quite like is the key-fob. In the 2019 model you get a brand new one but weíd argue that it looks and feels a little too cheap. Our final gripe lies with the Android Auto and Apple Car Play. Finally, you can now get your Range Rover with them but the problem is that youíre going to have to pay extra for it. Aside from the optional Android Auto and Apply Car play we have to say that the Range Rover is very well equipped. The Vogue trims kicks things off and has everything youíd really want with 20-inch alloys, leather trim, 20-way electric front seats, electric back rests on the rear seats, matrix headlights, gesture tailgate, a Meridian sound system and even a TV.

Sit in the back of the Range Rover and youíll find that there are very few changes over the previous car. Itís when you sit in the back that you quickly realise how much of a luxury car this actually is and not just an SUV. This is because there are just so many toys and gadgets to play with and these features arenít just for show either. In addition to the tonnes of space you get it all helps make this car an extremely good family SUV or limousine. If the space in the back isnít big enough for you then you can opt for the long wheel base version which gets you an extra 200mm of leg room. You can easily fit three people at the back and because there is a flat floor thereís lots and lots of space. The car weíre reviewing for this article is the Autobiography model so you get the Executive Seating package as standard. What this means is that you can change the three seat bench into a two separate seat at the flick of a button. One thing we should mention at this point is that the SV model, which sits at the very top of the range, comes with a fixed central console at the back so itís permanently a two-seater.

Due to the fact that this car is just so enormous thereís absolutely loads of boot room. In fact there a huge 995 litres on offer. As long as you donít opt for a Range Rover with the fixed central console in the back seat then you can fold down the rear seats giving you a whopping 2000 litres. In typical Range Rover style you also get an electrical drop-down tailgate so youíve always got somewhere comfortable to sit down and put on your wellies! If itís more comfort youíre after then you can spec the Events Seating package where it consists of two leather trim seats that attach to the tailgate.

You can also get the Range Rover as a plugin hybrid and is called the P400E. This uses a 2.0 litre petrol engine and electric motor and can run on pure electric for around 30 miles. Other than this the engine line up is pretty much the same as before. So, you get a couple of 5.0 litre supercharged petrols and two diesels. Thereís also a 3.0 litre V6 and a 4.4 litre V8. The car we looked at for this article is the SD V8 and it can only be described as a sublime engine. Whist the TD V6 tends to blend very quietly into the background youíre always fully aware of the fact that youíve got 8 cylinders up front. So when youíre cruising along at 50 miles per hour (mph) youíll find that thereís just this little rumble in the background and when you put your foot down then you get a lovely throaty basey growl to the engine. Seen as this car weighs so much the pick-up of this car is just fantastic and in short itís an engine that really does deliver. The engine is matched up to an 8-speed automatic gearbox and itís not too bad. Ok, you get some lazy gear changes but the kick down is pretty good and is just a generally good gearbox for this type of engine.

Whilst Land Rover claim that this car will do around 35 miles to the gallon (mpg) we think youíre going to be realistically looking at something like 25 mpg. However, itís the most frugal out of the V8 engines. If you do want 8-clyinder power and you donít want a diesel then you can opt for the 5.0 litre supercharged V8 petrol. It comes in two power outputs. The smaller output is for the Autobiography while the larger one is for the SV Autobiography and SD Autobiography Dynamic. Quite frankly though youíre going to have to have shares in an oil company to run these! For the 2019 model you can have a plugin hybrid but the engine we would recommend is the TD V6 because you get more than enough power and you still get decent fuel economy.

Unfortunately, handling isnít one of the Range Roverís fortes. So when you turn into a corner youíre really going to feel the whole thing lollop from side to side. Even when you put this car in Dynamic mode, which stiffens the air suspension up, it still doesnít excite you or entice you enough to throw this car around bends. However, itís important to understand that this is not what tis car is all about. So, if you want something a bit more sporty then you should probably be looking at the Range Rover Sport. The only thing that ruffles the whole refinement of this car are the wheels. The car weíre testing is the Autobiography and it comes with 21-inch alloys as standard. If it were up to us then we would probably de-spec this car to the Vogueís 20-inch wheels because the slightly deeper side-wall means that this car rides slightly better. For most part the ride in this car is just lovely mainly due to the air suspension doing a fantastic job. However you just canít overcome the laws of physics so when a 21-inch wheel hits a pothole then youíre really going to feel it.

Another thing you need to bear in mind, if youíre in the market for a Range Rover, is that it doesnít have the best reputation for reliability with many owners complaining about electrical gremlins. However, one area where this Land Rover has always scored highly is when it comes to driving off the road. This car doesnít attack rough terrain but rather smothers it and simply ploughs on! This is thanks to a wide range of driving modes and it 900mm wading depth. Thereís not much that can stop a Range Rover thatís for sure. While the Range Rover has become ever more posher over the decades its outstanding off-road ability has remained the same since the first Range Rover in 1970. In fact this is the unique thing about the Range Rover. Other 4x4s may have come along since and offered more bling or luxury but thereís simply nothing quite like a Range Rover. Ok, it may have its faults and its critics but itís one of the finest cars of its type. Interested? Then why not take a look at some used Land Rover Range Rover cars for sale on DesperateSeller.co.uk right now?