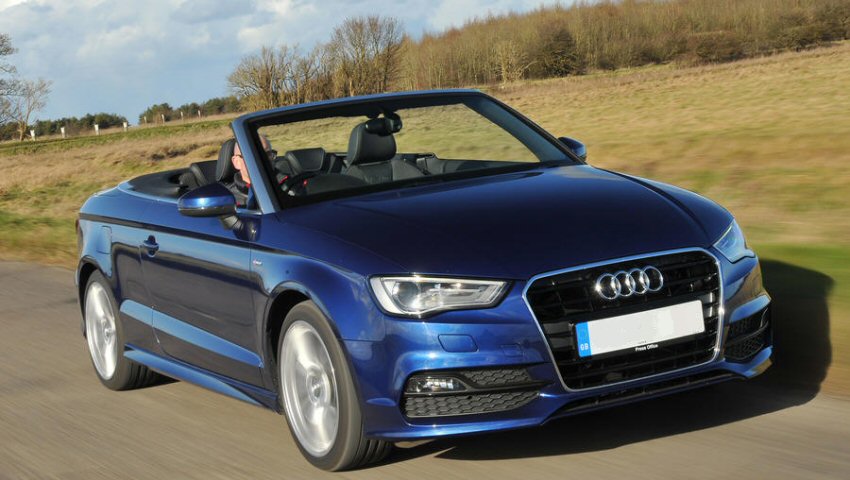 A quick look at the 2018 Audi A3 Cabriolet
Itís fair to say that the British just love an open top car and this is despite the unpredictable weather we experience. In fact, we buy more of these cars than our Spanish, Italian and French counterparts and thatís saying something!
Just because we like the wind in our hair it doesnít mean to say that we have to compromise on space and practicality. With our weather itís important for a convertible to have decent enough driving manners to put a smile on our face whether the sun is smiling or not. In this article weíre going to find out if the Audi A3 Cabriolet can do just this. Weíll also let you know what we think is the best engine and trim level and whether or not itís better than the BMW 2 Series.

So first off, whatís the Audi A3 Cabriolet like on the road? To answer this question we should start off with the engine line up. There are two diesel and two petrol engines for you to choose from. However, our favourite has to be the 1.5 litre turbo-charged petrol. Not only is this cheaper to buy than the more powerful petrols and diesels but itís also fitted with some clever technology called Cylinder On Demand. With this system does is deactivate two cylinders which helps you save money on fuel making it almost as light on fuel as the diesels. Unfortunately, this car is not as agile to drive as its main rival, the BMW 2 Series, but having said that it does change direction keenly and grips well enough through the corners. The only bugbear is the road noise which can be quite intrusive if you opt for a trim with the sports suspension or if you go for the S-Line model with the wider alloys. Itís worth mentioning that if you want the S-Line sportier styling then you can change its suspension to the softer dynamic setup for free. By doing this youíll significantly reduce the crashiness over potholes. As for the gearbox you can specify Audiís automatic S Tronic gearbox. However, we wouldnít recommend it as the payback for super slick fast gear changes when youíre driving with some pace is some rather jerky uncomfortable gear changes when driving around town and also when parking.

Audi have perfected the art of creating really opulent interiors and the A3 Cabriolet is no exception. This car is clad in soft-touch materials, matt aluminium trim and metallic detailing Ė itís just really lovely inside. In terms of getting comfortable for driving, there is plenty of adjustment in the seat and the steering wheel. Our only criticism however is that lumbar support does not come as standard. Therefore, if youíll be driving long distances then you might want to look at adding this to your options list. In terms of visibility you canít complain with the roof down Ė obviously. Though, with the roof up itís difficult to see out of the back. However, you do get parking sensors as standard so that helps. You also get Audiís MMI infotainment system as standard. Itís here that you control most of the carís functions using a chunky rotary dial located in the central console. Itís one of the best ones on the market and has some practical touches such as raised buttons so that you can make some adjustments without having to take your eyes off the road for too long.

With regards to practicality in this car it really is a game of two halves. This is because itís great in the front but quite poor in the back. If youíre 6ft then youíll find that thereís plenty of room to stretch out when sitting in the front. When it comes to storage spaces youíll find one underneath the armrest, two cup holders in front of the gear shifter a decent sized glovebox and a big bottle will just about fit in the side door bins. Unfortunately, itís when you sit in the back that youíll soon discover that thereís just not much space. You get a cup holder at the rear which is something but if youíre sitting behind someone thatís 6ft tall then youíll have to pull your knees up towards you. Youíll also find that the seats are quite upright and not the most comfortable. Itís probably safe to say that Audi definitely favours the people sitting in the front. For a convertible the A3 does have a decent size boot. It might look small at first glance but itís actually a lot bigger than youíd think. You could easily fit in a sizeable weekly shop or a couple of large suitcases. A slight downside to the boot is that you might find the load-bay quite shallow and a little tricky to access.

One great thing about the Audi A3 Cabriolet is that you donít have to break the bank by stocking up on extras. Even the entry level Sport trim comes with digital radio, sat-nav and dual-zone climate control. The S-Line version gets you larger alloy wheels, part leather upholstery and LED lights. As for the engine weíd opt for the 1.5 litre petrol simply because its innovative technology keeps emissions down and the fuel economy up. The A3 Cabriolet may not be as involving to drive as a BMW 2 Series Cabriolet but it has a more luxurious interior and a marginally bigger and accessible boot. So, for those that would like an affordable way to enjoy drop-top motoring and are a family of four then this car is a better all-rounder. If this car sounds right up your street then check out the new and used Audi A3 cars for sale we have on DesperateSeller.co.uk today.