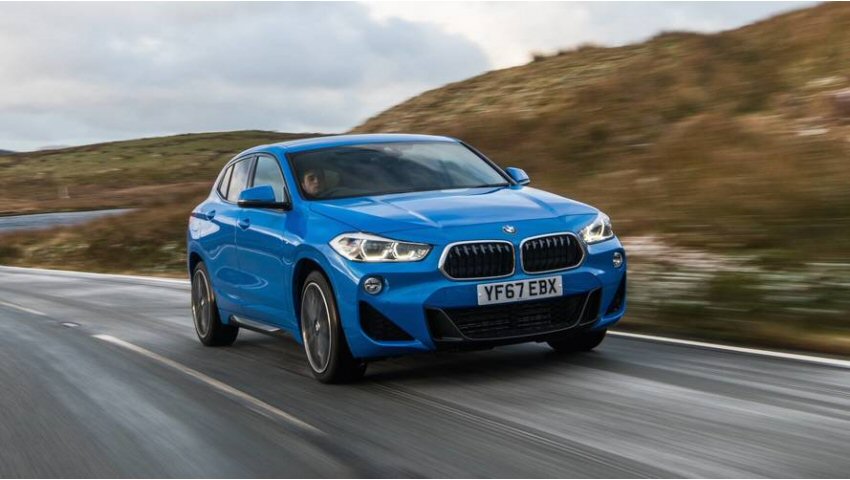 A quick look at the 2018 BMW X2
The car in the photo is the all new BMW X2 and whatever you call this kind of car, whether it be a small SUV or a crossover, you just canít deny how appealing they are. In fact, recent figures show that over the past decade the sales of these cars have increased by a massive 90%! As for BMWís X cars, they now make up one in three of every BMW sold around the world. So surely the X2 is destined to be a hit? Letís find out.
The appeal of crossovers is easy to see. For starters they arenít too large and they offer a really good view of the road. Due to the fact that they arenít true 4x4s with their heavy four-wheel-drive mechanics they weigh much less which gives them better fuel economy. The X2 is competing against strong competition in this area though. Itís competing against cars like the Audi Q3, the Mercedes GLA, the Jaguar E-Pace and quite possibly, the Range Rover Evoque.

The X2 has quite clearly been designed to appeal to a younger and probably more fashionable conscious buyer than its stablemate the BMW X1. It manages this really well in that itís very sporty and stylish and this is largely thanks to a lovely curving roofline and a lower stance than most of its rivals. It has an air about it that says that itís destined to be much more than just a family car. However, the reality is that this is probably what this car will eventually become.

So, if the BMW X2 will become a family car then how practical is it? Well, the sporty hatchback style looks doesnít necessarily mean that you have to compromise when it comes to practicality at all. Itís marginally suited to load lugging than the BMW X1 because of the shape of the boot but it still compares well to its rivals. However, itĎs slightly let down by a load lip which makes heaving heavy or bulky loads a struggle. When you sit in the back you become immediately aware that you have a lower seating position than you would in other smaller SUVs. Also the doors donít open that wide and the door opening itself is quite narrow which may make getting children in and out a little bit awkward. As for legroom in the back itís pretty good. Thereís plenty of legroom for an adult of 6ft but headroom is a different story. The price you pay for that lovely stylish roofline is a reduction in headroom compared to its less glamourous stablemate the BMW X1. Adding to this carís family friendly credentials there are Isofix child-seat points, good sized door bins and storage nets at the back of the front seats.

Up at the front youíll find that this isnít quite the right SUV if you want to look down at other road users. This is because it has a relatively low driving position. However, the seats are really comfortable with load of adjustment available. The central infotainment screen is well positioned right in front of the driverís eye-line and can be operated via an intuitive touchscreen or the rotary dial. The infotainment system can be linked up to Apple Car Play but doesnít have the option to linking to Android Auto which we find strange. As youíd expect in a BMW, it feels really refined and well put together in the cabin. However, itís not really the most imaginative or inspiring interior which is a shame especially when you consider what a great looking car this is. What you canít do is deny the level of quality throughout the cabin which is simply excellent. Equipment like the touchscreen infotainment system, cruise control, parking sensors and sporty looking alloy wheels, which you often have to pay extra for, are fitted on all models. Owners can access a BMW app that allows you to do things like check your fuel level or operate the central locking remotely.

Initial UK cars are only available with BMWs tried and tested four-wheel-drive, 2.0 litre diesel engines outputting 187 break horse power (bhp). However, a two-wheel-drive petrol version and a less powerful diesel will be introduced later. The model weíre reviewing for this article is the 2.0 litre diesel and straight away the sleeker looks really pay dividends. This car just feels sporty behind the wheel while being agile and easy to manoeuvre. The 8-speed automatic gearbox is nice and smooth whilst the steering is sharp and responsive. You also get plenty of grip from the X-Drive four-wheel-drive system. All in all this car feels a lot more like a sporty hatchback than a lumbering SUV behind the wheel with barely any body-roll going into corners.

Youíre going to have to make a decision when it comes to which mode you go for as it really is a trade between sportiness and comfort. While the big 19 inch wheels of the M Sport and the M Sport X models may give extra grip for enthusiastic driving they also amplify road surface imperfections in the road and the ride is hard. The Sport models have a less aggressive wheel and suspension combination but itís the SE that delivers the smoothest and most comfortable ride. Buyers can add a whole host of extra packs but do beware because they will bump the price up. One thing we would recommend though is the driver assistance pack as this adds a whole host of safety features. So, youíll get things like autonomous emergency breaking and lane departure warnings.

As weíve already mentioned earlier in this article cars like the BMW X2 are becoming increasingly popular but we think that this car really makes a strong case for itself. It manages to combine the best of an SUV and a premium hatchback in a stylish and well-built package. What this car does is certainly stand out from the crowd. As of writing there may not be many used BMW X2 cars for sale on the market at present. However, you do pay a price for such good looks and if youíre after more practicality and a more SUV-like style then you should also consider its less expensive stablemate, the BMW X1.