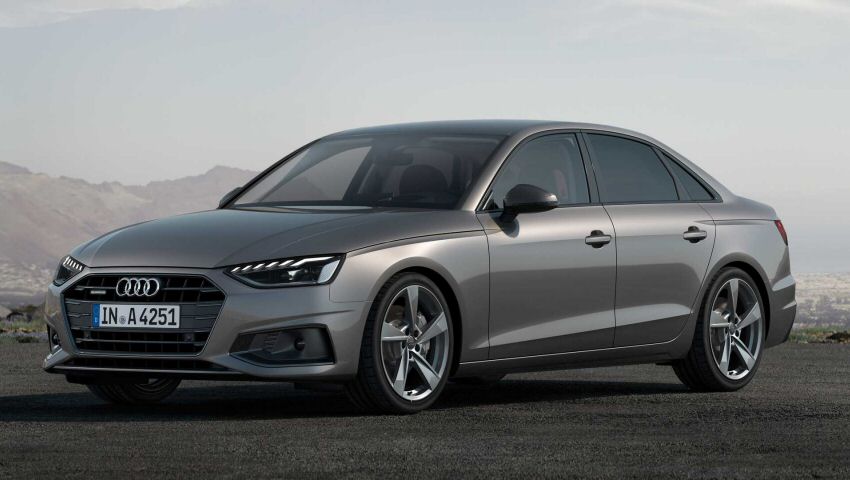 Can the revised 2020 Audi A4 really mix it?
The 2020 Audi A4 is the perfect example of what the Germans can create once they actually let their hair down. But can this new A4 really mix it with the likes of the BMW 3 Series, Mercedes C Class and Jaguar XE?
When it comes to mid-life facelifts Audi always treads a cautious path. However, this isnít quite the case with the 2020 A4. It appears Audiís current head of design didnít quite like the old A4 so heís decided to try and make it look more like the Audi A6 and A8 which are two cars heíd already designed. So, youíll now find a wider grille than on the car before and that it also sits lower down than before too. There are also new lights and new bumpers on the front and back. However, perhaps the biggest visual change thatís going to be very opinion splitting is along the sides. Gone are the neat shoulder lines and in their place are rather exaggerated wheel arches. Amusingly on the car we tested thereís actually one real exhaust and a fake one! As facelifts go, in Audiís world, this one is rather big news.

When you step inside the 2020 Audi A4 the madness rather stops because it pretty much looks identical to the old A4. So, youíll find the same typically Audi designed dashboard, the same fantastic build quality and it even smells the same too. However, when you head to fire up the infotainment system with the rotary wheel that youíll find Ė itís gone! In its place is just a cubby and this is because thereís no longer any need for it. Itís not needed because you now get a new touch screen and itís this that is in fact the biggest change in the new A4. It uses Audiís new operating system which can now be found in the Audi A6 and Audi A8 and is a much easier system to use. One of the reasons Audi has decided to remove the rotary wheel is because they want owners to use their new voice control system. Itís a system thatís a lot more reliable and easier to use and one Audi are particularly proud of. Another thing thatís worth noting inside the new A4 is that no matter which A4 you go for they all come with a large touchscreen and Audiís Virtual Cockpit display. Itís not just the touchscreen or virtual cockpit that comes as standard on the Technic trim. You also get LED lights on both front and rear and 17 inch alloy wheels. Sport trim adds part real and part fake leather and 18 inch wheels while the ever-popular S-Line trim gets a body kit, lower suspension, 19 inch wheels and sweeping indicators. Thereís also a Black Edition trim which, as youíve probably guessed, has lots of black trim and different alloys. Thereís also a hot S4 trim available. It all sounds pretty good but as usual the options packs are expensive and the only two colours that come as standard are white and black which is a tad stingy no matter what way you look at it.

Youíd be hard pressed to find any differences from the old A4 when you sit in the back. This isnít a bad thing as the back seats were always one of the best in class. This is mainly because thereís just so much space back here. Thereís a good amount of head and leg room and it still feels really wide. You could probably fit a third person in the middle seat but theyíd have to have to be of a pretty narrow persuasion. And if you do have narrow friends then theyíll love it at the back. Thereís also some really nice touches at the back such as an armrest that houses a cubby and cup holders. You also get nets on the back of the seats, good size door bins and IsoFix points on both of the outer seats. Unsurprisingly, the boot stays pretty much the same as it was before. So, itís the same size as the Mercedes Benz C Class and a little shy of the BMW 3 Series. The good news is that you get folding rear seats as standard on the A4 and even better news is that they have a 20/40/20 split making this car surprisingly practical for a saloon car.

Itís under the bonnet that the real changes can be found. Apart from the 187 brake horse power (bhp) 2.0 litre diesel badged 40 TDi all of the engines are now mild-hybrids. What this means it that thereís now a 12 volt electrical system to help improve fuel consumption. Audiís badging can get quite confusing so weíre going to try and keep it as simple as we can. You can buy the A4 with a 2.0 litre diesel engine which is nothing out of the ordinary. However, it comes with a mild-hybrid system and comes in two power outputs. Thereís a 134 bhp which is badged the 130 TDi and a 161 bhp which is badged the 135 TDi. Then thereís a 2.0 litre petrol engine with a 148 bhp, a 187 bhp and 242 bhp. These are badged the 35 TFS, 40 TFSi and 45 TFSi. In a move that will disappoint some buyers but impress others, the previously petrol only Audi S4 now comes with a 342 bhp 3.0 litre TDi diesel engine. This includes a 48 volt mild-hybrid system which develops 700 newton metres of torque.

The car we used for this short article was the 40 TDi which is the unit that doesnít have the mild-hybrid system fitted. Itís just a conventional 2.0 litre diesel engine with 187 bhp. This engine can be found in a multitude of different Volkswagen Group products and is generally a good engine. Itís a bit growly when you put your foot on the throttle but itís really nothing to crow about as itís just a generally refined engine. You should also get good MPG (miles to the gallon) from it too. Generally speaking itís a perfectly decent engine which is mated to a 7-speed automatic gearbox. Ok, you get some pretty nasty plastic paddles behind the steering wheel but it moves through the gears perfectly straightforward with no lurching or hesitancy. Itís just a very nicely put together setup where thereís nothing to write home about or to really complain about either.

Audi has done no work on the chassis of the 2020 Audi A4 whatsoever so it drives exactly the same as it ever did. This means that you can expect to experience very light and accurate steering. Although you wonít be able to feel much of whatís going on underneath you for the most part itís absolutely fine. The ride is good and although you canít get air suspension like you can in the Mercedes C Class you can get adaptive dampers the higher up the trim system you go. However, even on the standard setup itís absolutely fine. This is the thing with the A4, ok it wonít trouble the likes of the BMW 3 Series, Jaguar XE or even an Alfa Romeo Giulia on a tight twist road but neither is it as comforting or as luxurious as a Mercedes Benz C Class, the Audi A4 has always been in that middle ground.

While the 2020 Audi A4 is a very much refined car itís more costly to run than the equivalent BMW 3 Series or equivalent Jaguar XE. At 139 grams per kilometre (g/km) it emits more Co2 than both of these cars and this is bad news for business users. The tax is also more expensive which is yet another thing to keep in mind if youíre looking at the A4 as a company car.

The A4 is certainly an incredibly well-made car. Itís extremely cosseting and more than up to the job of being an executive saloon. Itís just that despite all its revisions the A4 is still beaten by the Jaguar XE for driving fun, Mercedes C Class forÖ.well class and the BMW 3 Series at being a good all-rounder. If youíre on the market for Used Audi A4 cars for sale then check out the range we have available on the DesperateSeller.co.uk website.