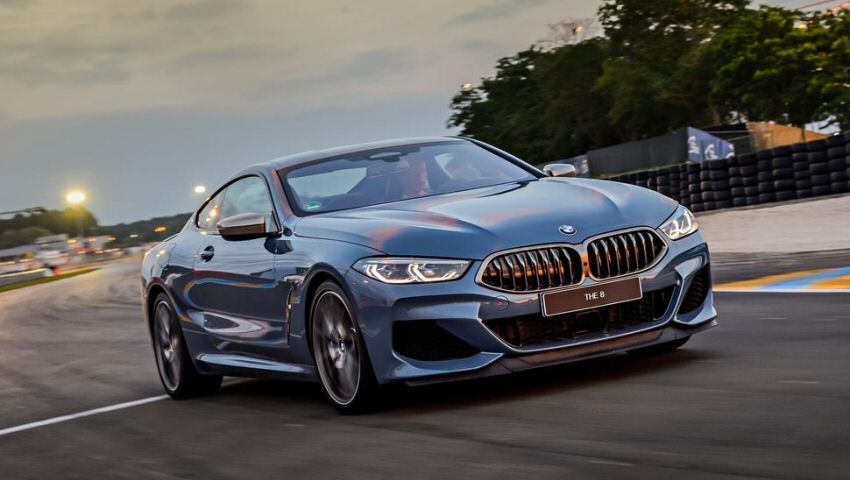 2019 BMW 8 Series
Itís been 20 years since BMW was last in the super-luxury coupe market. However, now the 8 Series is back and just like its predecessor the brief is simple yet a little ambitious. What BMW is trying to do here is take the comfort of a grand tourer and combine this quality with the high-performance dynamics of a sports car. In this article weíre going to find out if theyíve succeeded.
Cars like the 8 Series have to impress as much on the inside as they do on the road. This is because if youíre going to be using this car as a proper Grand Tourer then youíre going to be doing massively long journeys in it and therefore spending a lot of time inside the car as part of this process. Once youíve absorbed the exterior of the 8 Series, with its flowing profile and torte surfaces, youíre probably expecting something equally dramatic inside. If so, then youíd be somewhat let down. Instead what youíre met with is actually an interior that just feels a bit like a plusher BMW 5 Series. So, in terms of visual wow-factor weíd have to say that the 8 Series falls someway behind the likes of the Mercedes S Class coupe. This isnít to say that we donít like the interior. Far from it as everything you see matches quite closely to the BMW X5 which in itself is a really impressive interior. You can expect lovely touches throughout such as the leather stitching on the dashboard and the brushes of chrome on the trim. Everything just feels like itís been brilliantly incorporated into the environment. Historically, BMW has always been focussed on restrained visual design in favour of outright build quality and this is really evident in this car. Therefore, donít expect much glitz or glamour but what you can expect is that everything you touch has an outstanding quality to it and really amongst the best of what youíll find in the class.

The good news continues with this carís infotainment system. You get BMWís latest iDrive 7.0 infotainment touchscreen and also the Live Cockpit professional digital display. These two things combined have resulted in whatís undoubtedly one of the very best infotainment systems on the market. BMW havenít solely focussed on purely touchscreen functionality like most other manufacturers. Instead theyíve given drivers a plethora of ways to interact with the features on iDrive. Firstly, you have the brilliant rotary dial down by the transmission. Youíve also get a very sharp and responsive touchscreen as well as the ability to use voice command functions. You also get some shortcut buttons on the steering wheel and a load of shortcut buttons alongside the rotary button too. Whether youíre parked up or on the move this system really is easy to use and tis is due to its clever yet simple intuitive design.

As for space inside the cabin, upfront itís really generous. Thereís absolutely loads of leg and head room and the wide cabin makes it feel really spacious even when two adults are sitting inside. The doors open nice and wide so if you need to get in the front then you wonít have any problem at all. However, getting in the back can be a bit of a task. What you have to do is slide the front seat forward and then somehow navigate the small space between the seat and the pillar to clamber inside the rear. Once you do get in the back youíll find that the head room is pretty much non-existent and when the front seats come all the way back your feet are going to feel the squeeze too. So, if you want this type of car and youíre regularly going to be carrying passengers in the back then the Mercedes S ClassMercedes S Class coupe is probably the better of the two.

One thing thatís impressive with the 8 Series is the boot. Lift up the boot lid and youíll see that the load space goes quite some way back into the cabin. It also has a usefully wide space although once you do get into the useable space it becomes much thinner. The general opening to the boot is quite narrow and thereís a bit of a load lip but even when taking this all into consideration for its class this really is one of the more impressive boots youíll find.

If the 8 Series really wants to be highly regarded as a premium GT car then itís got to answer one simple question. Would drivers be happy to cross the continent in one? Well, thereís plenty of competition out there. Youíve got the Aston Martin DB11 and the Bentley Continental GT if you want super-luxurious mile munching coupes with big price tags. Just a little lower in the price range youíve got the option of cars such as the Mercedes S Class coupe. While lower than this youíve got the car weíre looking at in this article, the BMW 8 Series. Ok, it might be a bit of a stretch to call the 8 Series a cheap car but weíd have to say that it does offer pretty good value when compared to these other rivals.

So, whatís the 8 Series like to drive? Well, the first thing you notice when you get in is how this car seems to shrink around you. This is in part thanks to a brilliant driving position that offers great visibility and nice seats that hug you in too. Itís also very much because of how agile this car feels. The reason while this car just feels so agile is because it gives you all-wheel steering, as standard, and it also has a limited slip differential on the rear axle to help boost traction. Itís thanks to these small things that makes this near two tonne car feel pretty agile indeed. The only thing that lets the side down a little is the steering. Surprisingly it just doesnít offer the feedback you want from a car like this as it doesnít really let you know whatís going on between the front tyres and the road. This car may not be the best of the best but if you do a massive journey in the 8 Series then youíll still be pretty entertained by its handling. Whether youíll be comfortable along the way is another matter. We found that the ride is a little on the firm side and part of the reason for this is that BMW have chosen steel springs for its suspension rather than air suspension. The thinking behind this is that steel springs are traditionally the sportier choice. You mustnít think that this car is a bone-shaker, itís just that the ride isnít the strength of the car.

The 8 Series does have an impressive selection of engines. Kicking off the range youíve got the xDrive 840d which is a 6-cylinder diesel engine. Itís a hugely capable continent crushing engine with silky smooth power delivery that gently ushers you along in town but still offers impressive performance on the motorway. The car weíre using for this article, the M850i xDrive, would absolutely destroy the 840d in a drag race. It has a 4.4 litre twin-turbocharged V8 thatís has been borrowed and detuned from the BMW M5 and is outrageously quick! The best thing about this engine, apart for the obvious power, is that itís just so smooth and so quiet. Whatís equally impressive is that if you want to go at any speed in any gear and you want to deploy all of its 520 break horse power (bhp) then you can do so without going sideways into a hedge! Thereís just no drama at all and this is in part thanks to its very impressive all-wheel drive system.

The 8 Series really feels like an in-between sort of car. Itís certainly fun to drive, especially if you opt for the M855, but itís just not quite as dynamically capable as a Porsche 911 or the Aston Martin DB11 or the Bentley Continental GT either. The 8 Series is very impressive on the road but itís not really compelling in one area whereas some of its key rivals all offer one outstanding area that as a car buyer draws you towards it. This car then is therefore is more of a jack-of-all-trades type car but a very good one at that. If you would like to look at some used BMW 8 Series cars for sale then head to DesperateSeller.co.uk right now.