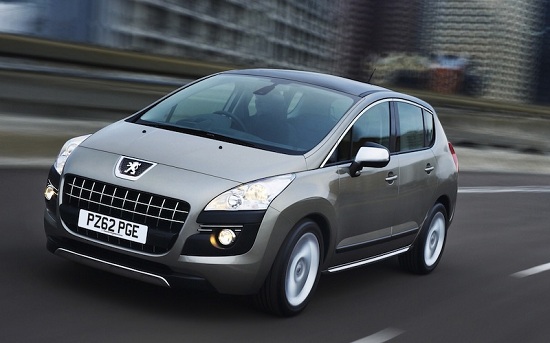 Great practicality, and a classy cabin
The 3008 made headlines in a big way when it became the first car in the world with a diesel-electric hybrid option. The more conventional model tested here is much nicer to drive, though and an awful lot cheaper to buy.
The HYbrid4 is the priciest 3008 by a long way. It has loads of luxuries to go with its ground-breaking hybrid technology, so as well as limited zero-emissions running and a form of four-wheel drive, you get a leather-clad cabin with a full set of electro-toys. You wont be left feeling short-changed by models costing a lot less, either, though the base-spec Access model has limited standard kit and a truncated options list. All get a strong range of safety gear, though, and the SR model tested here has cruise control, parking sensors and even sat-nav. We found the latter a bit fiddly to operate, however and the same goes for the stereo, too.

The 2.0 HDi diesel is available with two power outputs, one each for the manual and automatic gearbox options it offers. But the torquey 1.6 HDi is just as enjoyable to drive and makes the most sense in terms of running costs. The HYbrid4 mates another version of the 2.0 HDi to an electric motor to achieve sensational fuel economy. But its much more expensive to buy than a conventional diesel, and nothing like as nice to drive. The 1.6 petrol engine, meanwhile, is best seen as a cheap way into the range, though its pretty quick in THP form, if that matters to you.

Even on lower-spec models, the 3008 has a sweeping dash design that catches the eye inside. Its trimmed out in materials that feel as good as they look, too, and versions with a full-length glass roof are airy and full of light. Wed have liked the seats to be more supportive, though, and theres only really enough legroom in the back for kids. If youre carrying luggage, a split-level tailgate gives you access to a handy twin-level boot floor. The back seats fold almost flat, and on some models the front passengers seat does so as well to let you load very long items.

The SR has Grip Control, a sort-of alternative to four-wheel drive that works surprisingly well. More importantly, though, its crucial to go for a model with Dynamic Roll Control, a suspension set-up that improves what is otherwise a harsh, bumpy ride. In terms of engines, the 1.6 HDi does everything you should want, pulling well through a very smooth gearbox and cruising nice and quietly. It feels faster than it looks on paper which is the opposite of the Hybrid4, whose jerky automated manual gearchanges mean that even when youre accelerating hard, driving pleasure is minimal.

The Hybrid4 is a winner with the taxman, and it the figures it posts for fuel economy put it on a different planet to the rest of the range. Weve read reviews from testers who struggled to match them in real-world driving, though, and it costs so much more to buy that a diesel is still the best option. A less radical model will hold its value better, too so you need to choose carefully. Do so and this is a stylish, practical family car thats nice to drive and cheap to own.