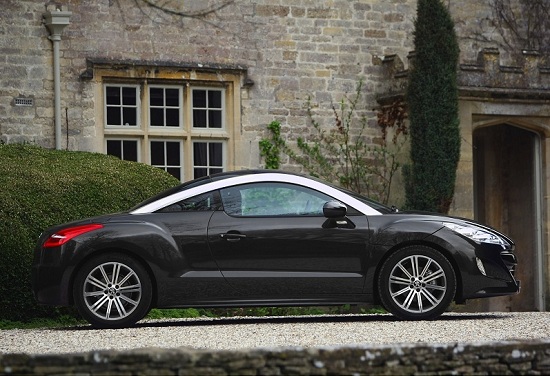 Great image and great fun
Peugeot has always made sexy concept cars. Problem is, it hasnt always carried their promise through to its showroom models. But then the RCZ came along
There are two models in the RCZ range, with equipment levels that are adequate rather than spectacular. Still, the entry-level Sport gets nice big alloys and dual-zone air-con, plus all the safety gear youd expect on a modern sports coupe. Itll warn you if youre about to reverse into something, too, which is good as rear visibility is less than panoramic. No such excuses at the front, but the range-topping GT will let you know if youre about to wallop something here, too. It also adds automatic lights and wipers, bigger alloys and heated leather seats with electric adjustment. Everything a funky sports car should have, you might say, but not enough to dull the immediacy of the driving experience.

The petrol engines are two versions of a 1.6 turbo unit offering either 156 or 200 bhp. Our test car was a GT with the latter, which despite its extra power is very nearly as economical to run. The diesel, meanwhile, is a 2.0 HDi putting out 163 bhp. With heaps of torque to help you through the gears, this gets commendably close to the performance or the petrol units. Its the least thirsty of the three, but not by as far as you might expect.

The RCZ is every inch a sports car inside, feeling very snug and sculpted. Its more than a two-seater, with a second row behind you, but with next to no legroom these are strictly only for kids. Theyll fold down, however, adding an element of practicality by allowing you to load a decent amount in the back. Dont expect to move house in one, though. Back where it really matters, the dash is neatly designed and built. Its styling might put you in mind of the Porsche Cayman, especially on a car with the optional full leather interior, though the plastics dont feel as nice as those on Peugeots best cars. The seats, more importantly, are very good. They hold you firmly in place, and its much easier to get a comfortable driving position than you first expect.

Coupes like this are meant to be thrilling to drive, but not so raw that you cant use them from day to day. Its hard not to conclude that Peugeot has got it absolutely right with the RCZ. This is a car whose rivals come from the top table the Cayman comes to mind, as does the Audi TT. And yes, you could say its less involving than one or less refined than the other. But its still tremendously enjoyable, with plenty of eager power and a lovely, precise manual gearbox. The whole lot goes down through the front wheels, which sports car purists will tell you should be left alone for steering. Fact is, though, youd have to drive it very hard indeed to find any compromises; it steers and handles just as crisply as youd wish.

Another way in which the RCZ differs from its premium-brand rivals is that you can get strong discounts by shopping around weve seen new ones on offer at 10% or more below the list price. Now that its no longer new enough to be an it-car, though, depreciation has started to pick up. But fuel and insurance costs are very manageable for anything with this much image. Most importantly, its less common than its more expensive rivals. And that makes it cooler. A sexy Peugeot? You got it.