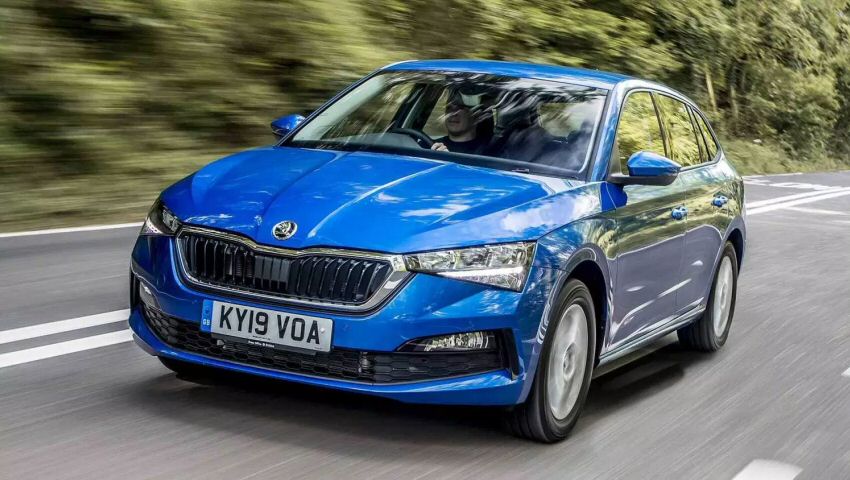 The 2019 Skoda Scala – A serious rival to the big players?
The Skoda Octavia is basically a Volkswagen Golf that happens to be wearing a sensible pair of trousers. You can think of it as the "thinking man's" Golf but thanks to its saloon body most people just don't think of it as a proper hatchback. This is exactly why the boffins at Skoda designed and launched the Scala. It not only replaces the hatefully dull Skoda Rapid Spaceback but has been built to rival the likes of the Golf, the Ford Focus, the Vauxhall Astra, the Mazda 3 and the Kia Ceed. However, is the Scala really a rival to these cars or is it just a little bit too dull and average to be compared anywhere near them? Well, hopefully this short article will do some way to answering this questions.
So, let's start with the Scala's styling. The looks of any car is always going to be subjective but in our minds the Scala looks way better than the old Skoda Rapid especially with its spaced-out Skoda badge at the back and boomerang rear lights. You can even opt for scrolling rear indicators on some models. However, should you park a Mazda 3 next to it and you'll find that the Scala can look rather plain. If you opt for the small wheels then you could even say that it looks a little sorry for itself.

When you sit inside the Scala you'll discover that it's a little more interesting than what you'd experience in a Skoda Octavia. Generally speaking, the quality in here is very good. There's lots of soft-touch materials used throughout the cabin and although you'll find some scratchy plastics in places it really is quite a nice place to be. In the car we're using for this article you get a sort of silver flash across the dashboard and it really does help to brighten the cabin up. If we were to sum up the cabin then we'd probably say that it's a simple and fuss-free interior. With regards to practicality you'll find lots of cubbies, a decent sized glovebox and large door bins. You also get thoughtful Skoda touches like draws under the seats, an ice scraper in the filler cap and a ticket holder in the windscreen. Even when you lift up the cap to top up the washer fluid you'll find that it turns into a useful funnel so you don't end up spilling washer fluid all over the engine.

SE trim cars get an 8-inch touchscreen infotainment system which uses Skoda's usual operating system. You'll find it very intuitive and easy to use which is something you now come to expect from Skoda. However, what you won't find is a sat-nav system. This isn't such a big problem as the Scala comes with Apple Car Play and Android Auto as standard so all you need to do is pop your phone in and connect it up to use the sat-nav on your device. One thing that's worthy of note is that the Scala uses USB-C charging ports so if your phone doesn't support this then you're going to have to use an adapter. SE L trim models do come with sat-nav, a larger screen and fancy digital dials. As time of typing there are three trim levels. The S gets 16 inch alloys, a tiny 6.5 inch colour touchscreen, a leather steering wheel and gear knob, LED headlights and safety kit like Lane Assist and Front Assist. SE trim adds an 8 inch touchscreen while SE L trim get sat-nav, a larger touchscreen, a virtual cockpit and scrolling rear indicators.

We've come to expect lots of room in the back in most Skoda models and the Scala is no exception. You get tonnes of rear space in terms of both leg room and the head room is pretty decent too. Thanks to its boxy dimensions it has to be one of the roomiest cars in its class. It's also feels very light and airy at the back. Unfortunately, there isn't an armrest at the back but the Scala makes up for it with IsoFix points which are easily reachable. You get pockets on the back of both seats, good sized door bins and two USB-C charging ports so your passengers can keep their devices fully charged up.

It's around at the back where the Scala really does pull away from its competitors. The boot is best described as absolutely enormous. It comfortably outweighs the boots of the VW Golf and the Ford Focus. In fact, the only car that immediately comes to mind with a larger boot is the Skoda Octavia. As standard you get a few nice features such as little cubbies on either side, little hooks and a 12-volt socket. You can also add various bits of equipment such as a variable boot floor and a number of different tow bars. It all shows that this is a very practical car indeed.

It's all pretty much as you'd expect under the bonnet of the Scala. There's a 1.0 litre 3-cylinder petrol engine with either 94 or 113 brake horse power (bhp) and a 1.5 litre 4-cylinder petrol with 148 bhp. If it's a diesel you're after then there's just one available, this being a 1.6 litre with 113 bhp. Although the 1.5 litre engine is the smoothest of all the engines we'd probably opt for the 1.0 litre 113 bhp unit as it provides a nice balance between power and economy. Skoda claim it will return 50 miles to the gallon (mpg) which is pretty realistic and it only coughs out a measly 113 g/km of Co2.

The car we used for this article was the 1.6 diesel which provides 113 bhp. It felt surprisingly punchy but if you put the stopwatch on this car then it does 0 to 62 miles per hour (mph) in just over 10 seconds. This may come across as a little bit pedestrian but it just doesn't feel it. The best bit about this engine is that it's so fuel efficient. You can easily expect to get 60 mpg out of it which for a small diesel hatchback is actually pretty good. The engine is matched up with a really nice 6-speed manual gearbox which moves between gears really effortlessly. The light clutch and gearshift action is very nice indeed. You can opt for a 7-speed DSG gearbox if you want but we'd stick with the 6-speed manual if we had to make the decision. It all sounds pretty good apart from one big thing and that's the noise that this engine produces. This is a VW Group 1.6 litre diesel engine and has always been a bit clattery no matter what car it's been bolted on to. However, it somehow seems even more so in the Scala. When placed in the Octavia is seems quite nicely hush but in the Scala you just feel as though you are a lot closer to the engine. It's just slightly too growly in our opinion but then again when you're getting 60 mpg out of it then we probably shouldn't carp too much. As you'd expect in a VW Group car, the steering is nice, light and accurate while the pedals have all got a nice action to them. It all just feels like your typical VW Group product which isn't a bad thing at all.

There is one thing that's really surprising about this car and that's that it feels so much like a VW Golf to drive. In fact, if you were driving this car blindfolded (not recommended) then you would honestly think it's a Golf. What's surprising about this is that the Scala isn't based on the Golf at all. It's actually based on the smaller MQB VW Group platform. So, you need to be thinking more Skoda Fabia or VW Polo. Yet Skoda have clothed the Scala in a body that's Golf sized and yet feels like a Golf to drive. It also feels as comfortable and as plush as a Golf on the road. It doesn't matter what surface you're on, whether it's a smooth motorway or around the city, this car is just so comfortable. If you match this car up with 16 inch wheels then it will help in this regard but it's all just very soft and very compliant – just very, well…..pliant.

We have to acknowledge that the Scala provides excellent value for money. When you factor in just how nice it is to drive and how spacious and nicely made it is then the Scala goes right to the top of the class beating the Ford Focus, Vauxhall Astra, Kia Ceed and dare we say it, the VW Golf. If you're interested in what this car has to offer then take a look at the used Skoda Scala cars for sale we have available right now on DesperateSeller.co.uk.