Every year thousands of Brits are flocking to buy cars with premium badges on their noses and SUVs. However donít forget about the large family car, cars like the new Vauxhall Insignia Grand Sport. Yes you heard that correctly!
Vauxhall have attached the words Grand Sport to the new Insignia to give it an air of luxury. So along with the Ford Mondeo, the VW Passat and the Skoda Superb, Vauxhall thinks this is a rival for the BMW 1 Series and the Audi A4. Itís a big claim, but when you sit inside everything in here looks and feels very good. Yes it hasnít quite got the quality of a German premium car but its better than the Ford Mondeo and easily on par with the Skoda Superb. Everything feels really good, all the soft touch plastics feel really good to touch. The dash is very simple in design and itís dominated by the colour infotainment system, the screen is very clear and the menus are all very intuitive. It hasnít got quite the sparkle of an Audi A4 inside but itís an awful lot bigger and itís very easy to get comfortable inside all thanks to a fully adjustable steering wheel and driverís seat.

Storage wise itís a bit hit and miss really. The glove box is actually tiny you can just about fit the ownerís manual inside. There is however a large central cubby, with a USB charging port and you can fit a bottle of water inside nicely. Thereís two more cup holders and the door bins easily pass the water bottle test.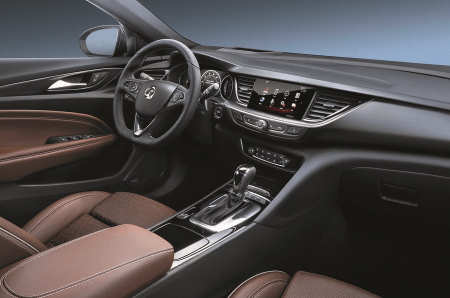 Trim wise, thereís 7 and thatís 2 too many. You donít really need to bother with the top 2 models unless you really want to. Leather seats and LED headlights are the basic design trim, and has cruise control, auto-emergency breaking, keyless entry, Apple car play, automatic headlights and Vauxhallís Onstar concierge service. Get in the back and itís absolutely vast. Thereís so much knee room, itís like something youíd find in a limousine. In actual fact itís very similar to the type youíd find in the Skoda Superb but you canít say the same for headroom because of the sloping headline, my head almost touches the top of the car roof. You can fit three people at a push. Even though there is only a small middle hump on the floor, Vauxhall havenít really designed the middle seat to be sat in. If you do carry a third passenger, they are not only going to be sitting very high up and their head is going to be touching the roof, but they are not going to feel very comfortable and they are going to be really squabbling for shoulder room. Another bad point in the back is there is no arm rests, now this is a family saloon car, it should have some arm rests. There is however easily reachable Isofix points in the two outer seats.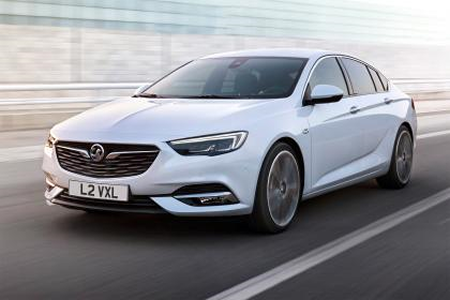 Things go a little downhill around at the boot. Whilst the hatchback tailgate is more practical than a German executive rival, this Insigniaís boot is actually smaller than its main rivals such as then Ford Mondeo and Skoda Superb. In fact, this boot is actually smaller than then old Insignia but itís still got a good shape to it even if there is a whacking great big lip to get your suitcases over. You can make the size of the boot larger by folding down the split folding rear seats and when you do this you do get a near flat loading area which is great for those extra-large loads.

You can have your Grand Sport with a 1.5 litre turbo petrol with 138 or 162 bhp. Thereís also a powerful 256 bhp 2.0 litre turbo petrol. For diesel lovers thereís a 1.6 producing 108 or 134 bhp and a 2.0 litre for mid spec SRi models and above. The car weíre reviewing is the 162 bhp 1.5 litre turbo petrol model and itís a brand new engine from Vauxhall - unfortunately, itís not the best. Itís not the best because it takes an awfully long time to actually get anywhere. You have to really stir the 6-speed gearbox a lot to actually make any progress. Whatís a far better engine is the 1.6 litre diesel as itís got more torque and consequently it just feels a lot more urgent. Itís also a better engine if youíre a company car driver because it makes more sense financially.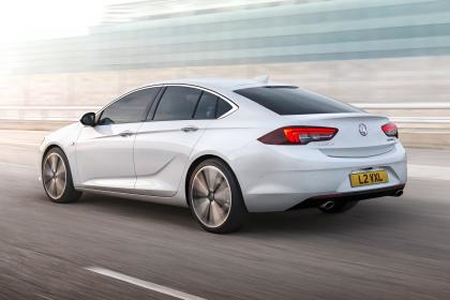 The diesels should return decent fuel economy. The lower powered 1.6 litre unit is certainly the most frugal with a claimed 70 mpg. However, weíd opt for the more powerful version because it should return mpg in the early 60s and yet still offers decent power.

The steering isnít perfect but itís accurate enough and it weighs up nicely the faster you travel. The pedals all have a nice weighting to them and the chassis is nice and agile which makes it feel a lot more fun than then equivalent Ford Mondeo. The ride is actually pretty good too even with the optional 18inch wheels added. While there is a bit of a crash over the odd pothole generally speaking the ride is still decent. We do have one word of warning however and thatís that if you go for the top spec 2.0 litre turbo petrol version then Vauxhall will fit 20 inch wheels to your car which makes the ride just far too hard. Even with the flex-ride adaptive suspension system the ride is just way too uncomfortable. Itís not bad on country roads and despite our earlier grumblings thereís no doubt that the 1.5 litre unit is ultra-quiet. Along with minimal wind and tyre noise it makes this car a really good motorway cruiser.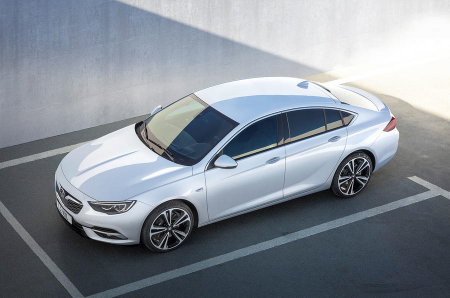 Along with a slightly more uncomfortable ride for posher versions of the Insignia Grand Sport, right across the range there are few negatives. The Insignia feels a big car from behind the wheel and itís not helped with larger windscreen pillars and a weirdly shaped rear windscreen which makes visibility not all that good. While the build quality is good the gear lever is oddly shaped and made from a nasty plastic. This is a perfect example of while how the Insignia is a quality car itís still some way off troubling premium executive cars.

In conclusion, the Vauxhall Insignia Grand Sport is a really likeable car that has a lot going for it. It also offers tremendous value for money. If youíre interested in a new or used Vauxhall insignia then take a look at what weíve got for you at DesperateSeller.co.uk.