People in the car industry got really excited when the first Toyota Yaris came off the production line. This was because back in the day the Yaris really was a ground-breaking car. It was small, it was cute, it was fun to drive and it was the first of a new breed of superminis. However, over the years the Yaris has gained a reputation for being a little bit dull and a car thatís reliable but not all that exciting. Itís because of this that the Yaris has become the choice for a lot of older drivers. So, does the latest generation put some life into one of the industryís old favourites?
There are certainly plenty of versions to choose from. The Yaris is available with three or five doors and under the bonnet you get a choice of petrol and diesel engines half of which are exempt from road tax. For those buyers that are keen on saving even more money at the pumps then thereís a hybrid version which Toyota claim is capable of 80.7 miles to the gallon (mpg).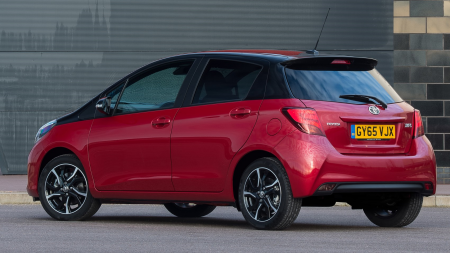 Where the Yaris really excels is with interior space. Itís in this area that it compares well with family hatchbacks such as the Ford Focus. The latest model is larger than the model it replaced and where this is really obvious is in the back. Passengers in the back will have plenty of space. Thereís good leg and head room and no annoying transmission tunnel taking away the space on the floor.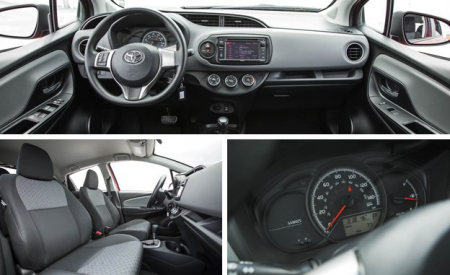 Around the back youíll find a boot that almost matches the size of that of its two main rivals, the Ford Fiesta and the Volkswagen Polo. However, itís worth remembering that small cars are actually getting bigger and new models like the Skoda Fabia can swallow even more luggage than the Yaris.

Toyota havenít overcomplicated the buying process and so the Yaris comes with just four available trim levels, these being, Active, Icon, Sport and Excel. Even the basic Active trim has electric front windows, heated electric door mirrors, audio controls on the steering wheel and an MP3 compatible CD player with USB connection. However, if itís luxury touches like air conditioning, a reversing camera, softer feel materials and Bluetooth connectivity that youíre after then youíre better off with the Icon spec.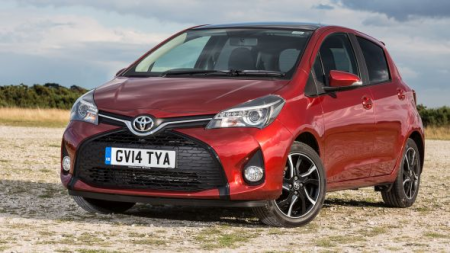 The car weíre reviewing is the 5-door Sport which gives you added accessories like digital radio, 16-inch alloys wheels, LED front and rear lights, tinted glass and a roof rear mounted spoiler. However, itís important to note that the Yaris Sport doesnít actually go any faster than the standard model and shares its 1.3 litre petrol engine with the rest of the range. Other trims can be had with a 1 litre petrol, a 1.4 litre diesel or a hybrid engine.

It will come of no surprise to tell you that ease of driving, not speed or excitement, are at the top of the list of most Yaris buyers and this is exactly what Toyota have delivered. We can really see why this car appeals to so many older drivers because it is just so easy to drive. You get nice light steering, sharp brakes and a smooth easy gear shift. Itís not too sensitive to your input so it doesnít feel uncomfortably sporty and just goes about its business quietly and dependably.

All Toyota Yaris models can be fitted with parking sensors at both front and back which come as part of the Protection pack. We strongly recommend the Safety Sense pack which includes kit like automatic emergency braking.

There are some very nice thoughtful features on this car. The front half of the bonnet and the sills are covered in anti-chip paint which protects you against stone damage. Thereís also a slight difference between the left and right door mirrors. The one on the right has a subtle bump which apparently slightly alters the carís aerodynamics to compensate for the very big single windscreen wiper. What it does is help reduce the wind noise you get in the cabin when the wiper is in use. Another thing we really like are the ďfollow me homeĒ headlights which can be adjusted at the dealership to make sure they stay on long enough for you to get to your front door.

So, what are the downsides of the Toyota Yaris? Well, our main complaint is that itís lost a large dose of its fun. The older Yaris models where cars that always seemed to bring a smile to your face but this later version just isnít all that fun to drive. Weíd also like to see some of the quality of plastics used around the interior just to be that little bit better which would really help the whole thing feel that little bit more special.

Sadly for the Toyota Yaris is that it doesnít seem to have quite got its mojo back. Itís certainly a solid dependable car with an awful lot going for it but in a world of shiny happy superminis it just doesnít quite have the sparkle of some of its rivals. Make up your own mind by taking a look at some new and used Toyota Yaris cars we have for sale by heading over to our car search section now.